Discount Eligible $121.00
On the other side of Beaune from Aloxe-Corton, Pommard is home to relatively muscular renditions of Pinot Noir. This red is deep and powerful, but the Boillots' nearly hundred-year-old vines have endowed the wine with unusual elegance and refinement.
—Tom Wolf
Discount Eligible $121.00
---
---
More from this Producer or Region
About The Producer
Domaine Lucien Boillot et Fils
Pierre Boillot is a rare master of both the Côtes de Beaune and the Côtes de Nuits–not only does he have the vineyards but also the savoir-faire and skill. Pierre inherited this domaine from his father Lucien, whose name it still carries. Pierre's talent became much more evident as he took full control over this domaine, and in addition to retaining the original cellars in Gevrey-Chambertin, Pierre has instituted a rigorous revitalizing of the soils and vines in all of his vineyards. Every wine is a classic representation of its appellation–from Volnay and Pommard to Gevrey and Nuits-Saint-Georges, as Pierre's work in the cellars is geared towards transparent, terroir-driven wines of purity and finesse.
About The Region
Burgundy
In eastern central France, Burgundy is nestled between the wine regions of Champagne to the north, the Jura to the east, the Loire to the west, and the Rhône to the south. This is the terroir par excellence for producing world-class Pinot Noir and Chardonnay.

The southeast-facing hillside between Dijon in the north and Maranges in the south is known as the Côte d'Or or "golden slope." The Côte d'Or comprises two main sections, both composed of limestone and clay soils: the Côte de Nuits in the northern sector, and the Côte de Beaune in the south. Both areas produce magnificent whites and reds, although the Côte de Beaune produces more white wine and the Côte de Nuits more red.

Chablis is Burgundy's northern outpost, known for its flinty and age-worthy Chardonnays planted in Kimmeridgian limestone on an ancient seabed. Vézelay is a smaller area south of Chablis with similar qualities, although the limestone there is not Kimmeridgian.

To the south of the Côte de Beaune, the Côte Chalonnaise extends from Chagny on its northern end, down past Chalon-sur-Saône and encompasses the appellations of Bouzeron in the north, followed by Rully, Mercurey, Givry, and Montagny.

Directly south of the Chalonnaise begins the Côte Mâconnais, which extends south past Mâcon to the hamlets of Fuissé, Vinzelles, Chaintré, and Saint-Véran. The Mâconnais is prime Chardonnay country and contains an incredible diversity of soils.
More from Burgundy or France
Where the newsletter started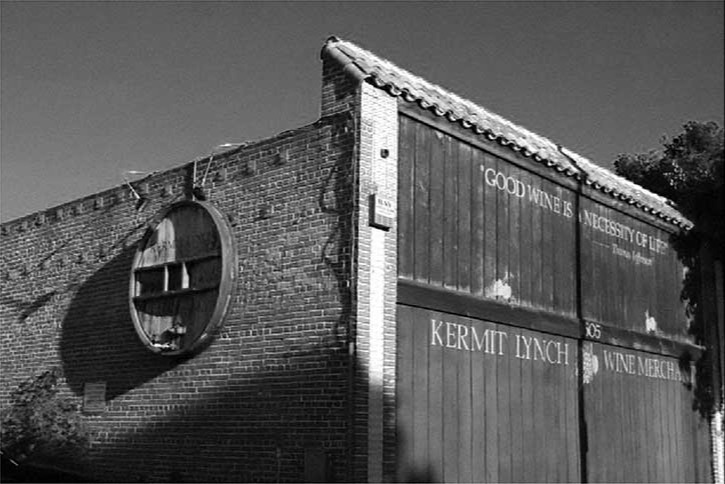 Where the newsletter started
Every three or four months I would send my clients a cheaply made list of my inventory, but it began to dawn on me that business did not pick up afterwards. It occurred to me that my clientele might not know what Château Grillet is, either. One month in 1974 I had an especially esoteric collection of wines arriving, so I decided to put a short explanation about each wine into my price list, to try and let my clients know what to expect when they uncorked a bottle. The day after I mailed that brochure, people showed up at the shop, and that is how these little propaganda pieces for fine wine were born.—Kermit Lynch