I don't know how you feel, but the Beaujolais from stars like the Gang of Four evoke a certain carefreeness in me. One single sip transports me to a courtyard in Villié-Morgon, uncorking bottle after bottle, getting tipsier than intended. Then there are the Beaujolais from Chignard and Diochon that always make me stand a little taller, study my glass a little longer, and recall that structured Gamay is not an oxymoron. But the perfectly simple village rouge of Domaine Dupeuble, which joyfully toes the line between these two styles, offers the charm and drinkability of the most effusive Morgons with the class and frankness of a chiseled Moulin-à-Vent. To navigate that sweet spot between the two, Ghislaine Dupeuble vinifies without the least bit of sulfur until bottling, in thick slabs of cement vats that keep the fruit fresh and crunchy. But don't take my word for it, as KLWM isn't the only one to hold this estate in high esteem.
This year, Ghislaine became one of the youngest people in history—and one of very few women—to receive the prestigious Chevalier de l'Ordre du Mérite Agricole. Awarded by the French ministre d'agriculture to the likes of Jacques Pépin, Yann Arthus-Bertrand, Louis Pasteur, and even Kermit Lynch himself, the medal recognizes those who have made and continue to make a significant impact preserving France and its agricultural resources. The award is a particular honor and accomplishment after only 20 years since joining the family's 500-year-old estate. Ghislaine, however, graciously accepts without any ego. She insists the passion and savoir-faire of her late parents, Damien and Danièle, laid the groundwork for her success. If that's the case, let's raise a glass of Dupeuble rouge in her parents' honor, and cheers to Ghislaine's very first vintage as a Chevalière—or whatever the French word is for a female knight.
—Jane Berg
---
Madison's Pick

For a divine backyard dining experience, give this charming rouge a proper chill and enjoy with fresh-off-the-grill burgers.
---
---
---
More from this Producer or Region
About The Producer
Domaine Dupeuble
In the hamlet of Le Breuil, deep in the southern Beaujolais and perched above a narrow creek, the Domaine Dupeuble has been running almost continuously since 1512. Anna's son Paul, and her grand children Ghislaine and Stéphane Dupeuble, manage the domaine. Today the domaine it is comprised of one hundred hectares, about forty percent of which are vineyards, planted primarily to Gamay. The grapes are harvested by hand and vinified naturally and without SO2. The wines of Dupeuble represent some of the best values in the Beaujolais today and are widely regarded for their very high quality and eminently reasonable price.
About The Region
Beaujolais
After years of the region's reputation being co-opted by mass-produced Beaujolais Nouveau and the prevalence of industrial farming, the fortunes of vignerons from the Beaujolais have been on the rise in the past couple of decades. Much of this change is due to Jules Chauvet, a prominent Beaujolais producer who Kermit worked with in the 1980s and arguably the father of the natural wine movement, who advocated not using herbicides or pesticides in vineyards, not chaptalizing, fermenting with ambient yeasts, and vinifying without SO2. Chief among Chauvet's followers was Marcel Lapierre and his three friends, Jean Foillard, Guy Breton, and Jean-Paul Thévenet—a group of Morgon producers who Kermit dubbed "the Gang of Four." The espousal of Chauvet's methods led to a dramatic change in quality of wines from Beaujolais and with that an increased interest and appreciation for the AOC crus, Villages, and regular Beaujolais bottlings.

The crus of Beaujolais are interpreted through the Gamay grape and each illuminate the variety of great terroirs available in the region. Distinguishing itself from the clay and limestone of Burgundy, Beaujolais soils are predominantly decomposed granite, with pockets of blue volcanic rock. The primary vinification method is carbonic maceration, where grapes are not crushed, but instead whole clusters are placed in a tank, thus allowing fermentation to take place inside each grape berry.

Much like the easy-going and friendly nature of many Beaujolais vignerons, the wines too have a lively and easy-drinking spirit. They are versatile at table but make particularly good matches with the local pork sausages and charcuterie. Though often considered a wine that must be drunk young, many of the top crus offer great aging potential.
More from Beaujolais or France
Kermit once said...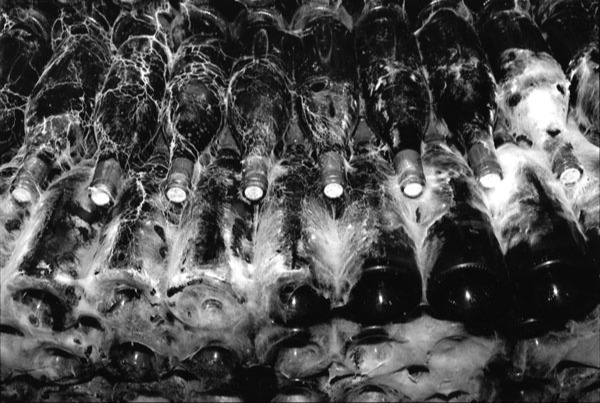 Kermit once said...
Living wines have ups and downs just as people do, periods of glory and dog days, too. If wine did not remind me of real life, I would not care about it so much.