Consider the world's greatest white wines: grapes like Chardonnay, Riesling, Chenin Blanc, or Sauvignon have proven to be capable, in the right terroir and in the hands of the right vigneron, of creating pure magic. Well-vinified Marsanne on the hill of Hermitage is equally suited to yielding world-class whites, as is Pinot Gris from the sloping greens of Alsace. But what about a blend of Carcajolu Biancu, Paga Debbiti, Riminese, Rossola Brandica, Biancone, and Vermentinu?
One must travel to the rugged granite hills inland of Ajaccio, the capital of Corsica, to find such an unusual, and, at first glance, perplexing white wine. Here, Jean-Charles Abbatucci is vinifying a piece of local history from the museum-like vineyard of heirloom Corsican varieties his father planted in the early 1960s.
These indigenous grapes became all but extinct in an era when highly productive, 'commercially viable' grapevines largely replaced those that Corsicans had been farming for countless generations. In addition to salvaging this important aspect of the island's heritage, Jean-Charles's father also logged each cultivar in a sort of secret playbook, recording the vines' every characteristic including appearance, vigor, disease resistance, and, crucially, olfactory qualities.
The cuvée Général, named for an ancestor of Jean-Charles who heroically fought and died in the French Revolution, is farmed with Abbatucci's trademark biodynamic zeal, fermented naturally, and aged in oak demi-muids. Broad-shouldered yet fine-grained, it is a resplendent translation of the herb- and flower-studded interior of the Ile de Beauté, with a sea-breeze freshness to contrast the fleshy, sun-imbued voluptuousness on the palate. More than a nod to the island's rich history of viticulture, the Général is simply a stunning bottle of white wine, undoubtedly on par with France's established greats.
—Anthony Lynch
---
| | |
| --- | --- |
| Wine Type: | white |
| Vintage: | 2017 |
| Bottle Size: | 750mL |
| Blend: | 25% Carcajolu Biancu, 25% Paga Debiti, 20% Riminese, 15% Rossola Brandica, 10% Biancone, 5% Vermentinu |
| Appellation: | Vin de France |
| Country: | France |
| Region: | Corsica |
| Producer: | Domaine Comte Abbatucci |
| Winemaker: | Jean-Charles Abbatucci |
| Vineyard: | Planted from 1960-1962, 2 ha |
| Soil: | Granite |
| Aging: | Aged in older 600-L demi-muids |
| Farming: | Biodynamic (certified) |
| Alcohol: | 13% |
---
More from this Producer or Region
About The Producer
Domaine Comte Abbatucci
On his large estate south of Ajaccio, Jean-Charles Abbatucci keeps a pristine poly-culture ecosystem in place, complete with herds of sheep foraging through his vines, groves of olive trees on ancient terraces, and large swaths of untouched forests. His vines come from cuttings of indigenous grapes, sourced decades ago high up in the mountainous interior of the island, saving several native varieties from extinction. To keep his vines happy, he's known to drive his tractor out to his vineyards and play traditional Corsican polyphonic songs over loudspeakers for their benefit. After the harvest he'll treat his cellar to the same music as his grapes ferment and come of age. All part of the terroir, he says.
About The Region
Corsica
I first set foot on the island in 1980. I remember looking down from the airplane window seeing alpine forest and lakes and thinking, uh oh, I got on the wrong plane. Then suddenly I was looking down into the beautiful waters of the Mediterranean. Corsica is a small, impossibly tall island, the tail of the Alp chain rising out of the blue sea.—Kermit Lynch

Kermit's first trip to the island proved fruitful, with his discovery of Clos Nicrosi's Vermentino. More than thirty years later, the love affair with Corsica has only grown as we now import wines from ten domaines that cover the north, south, east, and west of what the French affectionately refer to as l'Île de Beauté.

Corsica is currently experiencing somewhat of a renaissance—interest has never been higher in the wines and much of this is due to growers focusing on indigenous and historical grapes found on the island. Niellucciu, Sciarcarellu, and Vermentinu are widely planted but it is now common to find bottlings of Biancu Gentile and Carcaghjolu Neru as well as blends with native varieties like Rossola Bianca, Minustellu, or Montaneccia.

As Kermit described above, Corsica has a strikingly mountainous landscape. The granite peaks top out above 9,000 feet. The terroir is predominantly granite with the exception of the Patrimonio appellation in the north, which has limestone, clay, and schist soils.The wines, much like their southern French counterparts make for great pairings with the local charcuterie, often made from Nustrale, the native wild boar, as well as Brocciu, the Corsican goats milk cheese that is best served within 48 hours of it being made.
More from Corsica or France
Kermit once said...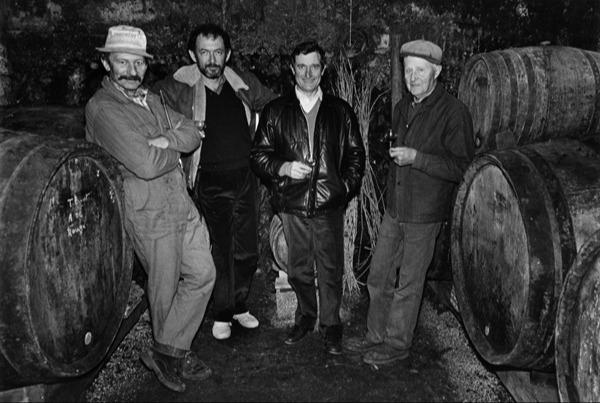 Kermit once said...
I want you to realize once and for all: Even the winemaker does not know what aging is going to do to a new vintage; Robert Parker does not know; I do not know. We all make educated (hopefully) guesses about what the future will bring, but guesses they are. And one of the pleasures of a wine cellar is the opportunity it provides for you to witness the evolution of your various selections. Living wines have ups and downs just as people do, periods of glory and dog days, too. If wine did not remind me of real life, I would not care about it so much.
Inspiring Thirst, page 171