Location is crucial in the Langhe, as vineyard site is the first and foremost determinant to a grower's ability to produce fine Barolo. Brothers Alessandro and Gian Natale Fantino are blessed in this respect: proud proprietors of several hectares in a south-facing section of Monforte d'Alba's fabled Bussia cru known as Dardi, named for the family's old farmhouse, they have the terroir essentials to craft a grandiose Nebbiolo for the ages.
And yet, this is only part of the equation. Traditional treatment in the cellar—fermentation with native yeast and long aging in Slavonian oak casks, or botti grandi—ensures the beautiful fruit from Dardi is not altered or masked. Minimizing filtration and added sulfur at bottling preserves a velvetiness that makes the wines texturally seductive from release and through the years.
As a result, the Fantinos' Baroli come loaded with rich, generous Nebbiolo fruit, flaunting a plushness that beckons. The wine is ripe, deep, and almost extravagant in its breadth of aroma and flavor, while a dense, tightly knit core of firm acidity and fine-grained tannins make up a rigid spine. Power, finesse, classic Barolo aromatics—it's all there in this 2015 from the Fantinos. Piemonte lovers will not want to miss it.
—Anthony Lynch
---
| | |
| --- | --- |
| Wine Type: | red |
| Vintage: | 2015 |
| Bottle Size: | 750mL |
| Blend: | Nebbiolo |
| Appellation: | Barolo |
| Country: | Italy |
| Region: | Piedmont |
| Producer: | A. & G. Fantino |
| Winemaker: | Alessandro & Gian Natale Fantino |
| Vineyard: | 21 years |
| Soil: | Sandy Clay |
| Aging: | Aged in large oak barrels for 4 years, aged in bottle for 6 months before release |
| Farming: | Sustainable |
| Alcohol: | 14% |
---
More from this Producer or Region
About The Producer
A. & G. Fantino
Two brothers, Alessandro and Gian Natale Fantino, run this family estate in Monforte d'Alba. Alessandro managed the vineyards and served as the enologist at Cantina Bartolo Mascarello for 20 years, from 1978 to 1997. The brothers farm eight hectares in the heart of the historic Bussia cru, one of Barolo's most famous areas for producing wines of great longevity and finesse. The Fantino holdings are concentrated exclusively in the "Dardi" section of Bussia. The brothers also produce a Barbera d'Alba from these ancient vines in Dardi, and a "Rosso dei Dardi" from younger vine Nebbiolo. They are also specialists with several traditional Piemontese wines that are mostly disappearing: Nebbiolo Passito and Barolo Chinato.
About The Region
Piedmont
Kermit's love affair with the great reds of Piemonte dates back to the early days of his career: the very first container he imported from Italy, in fact, featured legendary 1971 and 1974 Barolos from Vietti and Aldo Conterno. Regular visits since then have seen our portfolio grow to now twelve Piemontesi estates, with a strong focus on the rolling hills of the Langhe.

Nebbiolo rules these majestic, vine-covered marl slopes, giving Italy's most mystifyingly complex, nuanced, and age-worthy reds. When crafted via traditional production methods—long macerations and extensive aging in enormous oak botti—the powerful, yet incredibly refined Barolos and Barbarescos provide haunting aromatics of tar, raspberry, incense, tea, roses, and more. At times austere in their youth but well worth the wait, they pair beautifully with the hearty local cuisine starring veal in many forms, braised beef, pastas like tajarin and agnolotti, and of course, Alba's famous white truffles.

Surrounded by mountains on three sides, Piemonte's climate is continental, with baking hot summers and cold winters. Nebbiolo is only part of the story here: juicy, fruity Barberas and Dolcettos represent the bread and butter throughout the region, and other native grapes like Freisa, Croatina, and the white Arneis are also noteworthy. Value abounds in the Monferrato, while Alto Piemonte also has its share of thrills to provide.

Every corner of Piemonte is rich with tradition, especially when wine is concerned. It's no wonder we have been singing the region's praises for over forty years.
More from Piedmont or Italy
Kermit once said...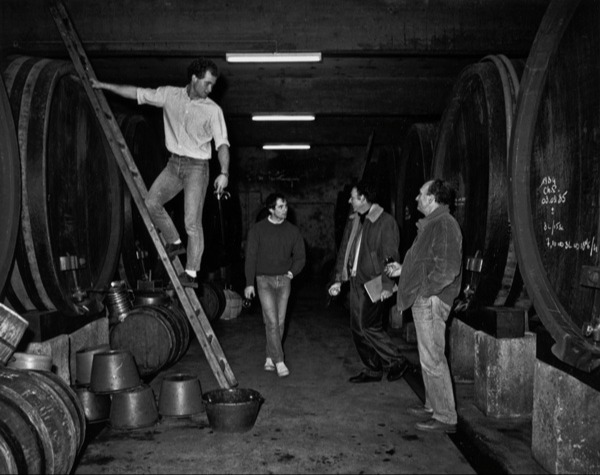 Kermit once said...
For the wines that I buy I insist that the winemaker leave them whole, intact. I go into the cellars now and select specific barrels or cuvées, and I request that they be bottled without stripping them with filters or other devices. This means that many of our wines will arrive with a smudge of sediment and will throw a more important deposit as time goes by, It also means the wine will taste better.