Receive our Monthly Newsletter and Special Promotions. Stay up to date on new arrivals, sales, and events at our Berkeley shop.
November 2023 Newsletter
Receive our Monthly Newsletter and Special Promotions. Stay up to date on new arrivals, sales, and events at our Berkeley shop.
by Anthony Lynch
Here it is: the very first edition of an exciting southern Rhône red! Our brand-new Côtes du Rhône Villages is a collaboration with Les Vignerons d'Estézargues, a co-op cellar located just across the river from Avignon. Founded in 1965, Estézargues has championed sustainable and organic viticulture and natural winemaking for decades, making it a rare exception in the world of co-ops. They work closely with their growers, emphasizing organic farming, and manage their cellar with a judicious use of low-intervention techniques: nothing is inoculated, sulfur is kept to a bare minimum, and the wines are bottled without filtration...
The official release date of this year's delectable juice is Thursday, November 16, and the wine will be available for purchase on that date.
Here's the on-the-ground update from France on our TWO Nouveaux!

Reserve yours by calling (510) 524-1524, or visit kermitlynch.com to join our email list to be alerted when the wine is available for purchase online.
by Tom Wolf
Few vignerons are more responsible for changing the perception of the Beaujolais than Jean Foillard. If the chaptalized reds and mass-produced Nouveaux that came to define the region at the end of the last century sit at one end of the Beaujolais spectrum, Jean's gorgeous Morgons and benchmark Beaujolais-Villages stand tall at the other, showcasing the world-class potential of Gamay planted in the region's best granite terroirs...
by Jane Augustine
My gateway into sparkling wine was something bubbly from California that my friends and I used to pass around in a circle. It was low-priced and low in alcohol, high in both sugar and carbonation, but it made us feel alive with agency and sophistication. That's the power of bubbles, I guess. Luckily for me, my palate evolved and was further awakened years later when Kermit offered me a position in our office in Burgundy. There, colleagues and I could order Champagne straight from the domaines of Lassalle, Fourny, and Bara, so often that their wines became our house apéritifs. Gone were the days of sweet swill, welcome were those of fine and balanced grower Champagne...
by Tom Wolf
From the family's benchmark Brunello to this Toscana rosso, everything Sesti produces is top-class. For this bottling, the reason why is very simple. Elisa Sesti uses grapes from her very special Brunello di Montalcino vineyards and declassifies them to make one of the most charming introductions to Sangiovese imaginable. Turning to her younger vines and decreasing the amount of aging time—one year—in her imposing thirty-hectoliter botti, Elisa produces a Tuscan red brimming with bright brambly fruit with a touch of mint and leather...
by Chris Santini
It's been said that Les Pallières is more of an "ambiance" than a microclimate. To get there, it's a bit of a drive from Gigondas village center, heading north, away from the main road, the summer crowds, and the noise. The road follows the Trignon River around some bends and suddenly climbs, up past a few old farmhouses at the base of the hill, and then into that ambiance many have remarked upon at first visit. There's a calmness in the hills, save the occasional passing of the herd of goats who roam the property, with their shepherdess guiding them through. The estate is vast, much more ground given to forests of pine, oak, and maquis than to vine...
by Dixon Brooke
Every Domaine Ostertag creation is a work of art, an individualistic expression of an iconoclastic vigneron's vision executed from vine to bottle, accompanied by a beautiful and original label...
by Madison Brown
Clémence Marsanne (pictured on the cover) is the newest generation to hone her craft at this historic domaine. She's worked alongside her father Jean-Claude for only three vintages officially, but she practically grew up on the hallowed slopes surrounding her village of Mauves and knows them like the back of her hand...
by Dustin Soiseth
The Petit Chablis from Roland Lavantureux is like a Bourgogne blanc from Antoine Jobard or Jean-Marc Roulot—a delicious, meticulously crafted wine that offers a taste of the magic found in the domaine's more exclusive wines, with all the refreshing minerality and stoniness that is the hallmark of cool-climate Chardonnay grown on limestone...
by Anthony Lynch
Deep in southern Sicily, the Nero d'Avola grape is responsible for one of the rarest and most precious feats achievable in fine wine. Ripened in baking dry heat all summer long, it reaches full-throttle power with dense black fruits, hints of wild game and mint, and thick, chewy tannins...
by Tom Wolf
On a warm night in early June, I stepped out of Le Peletier Metro station in Paris's ninth arrondissement, five minutes away from learning the answer to a question I'd mulled over for weeks. A month earlier, I'd invited François-Régis Gaudry to meet for an apéro or dinner, but I'd left the location up to him. After all, as the host of "On Va Déguster," a nationally broadcast radio program about food across France and author of On Va Déguster Paris (out now in the U.S. as Let's Eat Paris!), Gaudry knows the dining scene in Paris better than almost anyone. Now, I was about to discover which gem in the city's crown of restaurants France's most influential gourmand had chosen for our rendezvous...
Kermit once said...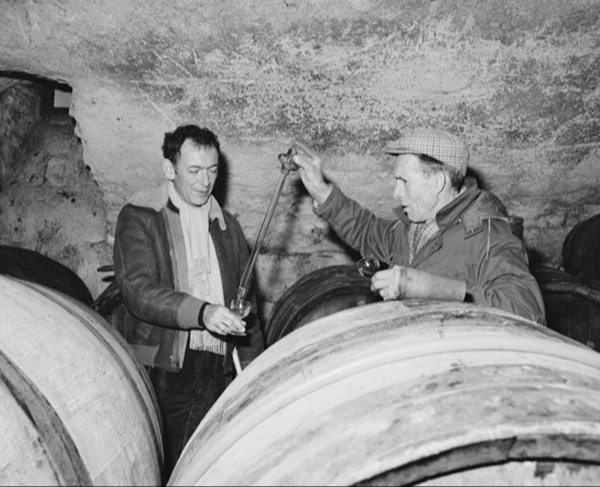 Kermit once said...
When buying red Burgundy, I think we should remember:

1. Big wines do not age better than light wine.
2. A so-called great vintage at the outset does not guarantee a great vintage for the duration.
3. A so-called off vintage at the outset does not mean the wines do not have a brilliant future ahead of them.
4. Red Burgundy should not taste like Guigal Côte-Rôtie, even if most wine writers wish it would.
5. Don't follow leaders; watch yer parking meters.
Inspiring Thirst, page 174