Here we have a serious Chenin Blanc, produced by one of the Loire Valley's natural wine legends. Thierry Germain, a Bordeaux native with a Burgundian winemaking style, has been honing his craft at Domaine de Roches Neuves since the early '90s. He farms 28 hectares of phenomenally situated vineyards planted to Cabernet Franc and Chenin Blanc. According to Thierry, the process is all about balance, from the vines to the wines: "Balance of the environment, of nature, of the relationship between humans, plants, and also animals. Balance when it comes to finding the perfect symbiosis between the terroir and the plant. Each harvest, a search for balance in determining the right maturity of the grapes to preserve minerality and tension." As one of the Loire's early converts to biodynamics, he cultivates a deep connection to the hallowed ground he works, tending his land with the utmost respect for life and biodiversity. This uncompromising philosophy translates directly to the wine, resulting in Saumurs that are entirely complete and exude an unmistakable sense of place.
Thierry's Insolite, meaning "unusual," comes from a tiny plot of gnarled 90-year-old Chenin Blanc vines embedded in clayey, silex-rich soils over chalky limestone bedrock. The combination of ancient vines and special terroir result in an ultra elegant and finely-etched expression of the grape. A sensorial springboard to the charms of Thierry's mineral-driven whites, Insolite is loaded with notes of citrus skin, ripe orchard fruits, river rocks, and a touch of smoke. The extraordinary depth, freshness, and precision in the glass will leave no doubt that this is Saumur blanc at its most scintillating.
—Madison Brown
More from this Producer or Region
About The Producer
Thierry Germain
Thierry relocated to the Loire from Bordeaux in the early 1990s, and soon fell under the influence of his spiritual father, Charly Foucault of Clos Rougeard. Thierry would ultimately convert his entire domaine to biodynamic viticulture, which was the equivalent of his wine epiphany. Listening and observing his plants, allowing them to guide him, revolutionized his way of thinking. Thierry harvests on the relatively early side to preserve fresh, vibrant fruit. His goal is to produce Cabernet with purity, finesse, and drinkability, while avoiding rusticity, vegetal character, and hard tannins. When it comes to his Chenin, he makes bone dry, high acid, mineral wines that drink like Chablis young and take on weight slowly over time. Aging takes place in large oval foudres (for the whites) and round foudres and demi-muids (for the reds) in Thierry's frigid tuffeau cellars below his winery in Varrains. His incredibly diverse terroirs are translated with utter clarity and precision.
About The Region
Loire
The defining feature of the Loire Valley, not surprisingly, is the Loire River. As the longest river in France, spanning more than 600 miles, this river connects seemingly disparate wine regions. Why else would Sancerre, with its Kimmeridgian limestone terroir be connected to Muscadet, an appellation that is 250 miles away?

Secondary in relevance to the historical, climatic, environmental, and cultural importance of the river are the wines and châteaux of the Jardin de la France. The kings and nobility of France built many hundreds of châteaux in the Loire but wine preceded the arrival of the noblesse and has since out-lived them as well.

Diversity abounds in the Loire. The aforementioned Kimmderidgian limestone of Sancerre is also found in Chablis. Chinon, Bourgueil, and Saumur boast the presence of tuffeau, a type of limestone unique to the Loire that has a yellowish tinge and a chalky texture. Savennières has schist, while Muscadet has volcanic, granite, and serpentinite based soils. In addition to geologic diversity, many, grape varieties are grown there too: Cabernet Franc, Chenin Blanc, Sauvignon Blanc, and Melon de Bourgogne are most prevalent, but (to name a few) Pinot Gris, Grolleau, Pinot Noir, Pineau d'Aunis, and Folle Blanche are also planted. These myriad of viticultural influences leads to the high quality production of every type of wine: red, white, rosé, sparkling, and dessert.

Like the Rhône and Provence, some of Kermit's first imports came from the Loire, most notably the wines of Charles Joguet and Château d'Epiré—two producers who are featured in Kermit's book Adventures on the Wine Route and with whom we still work today.
More from Loire or France
Where the newsletter started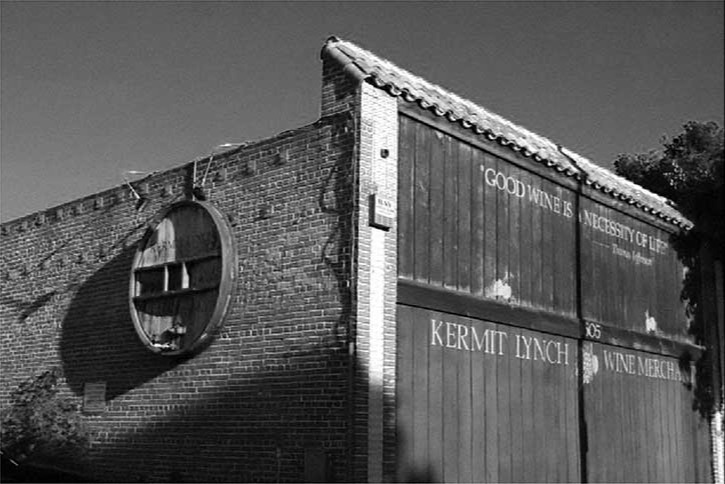 Where the newsletter started
Every three or four months I would send my clients a cheaply made list of my inventory, but it began to dawn on me that business did not pick up afterwards. It occurred to me that my clientele might not know what Château Grillet is, either. One month in 1974 I had an especially esoteric collection of wines arriving, so I decided to put a short explanation about each wine into my price list, to try and let my clients know what to expect when they uncorked a bottle. The day after I mailed that brochure, people showed up at the shop, and that is how these little propaganda pieces for fine wine were born.—Kermit Lynch