A Luxurious Experience from Start to Finish
A Luxurious Experience from Start to Finish
by Kermit Lynch by Kermit Lynch
Final Day of Our Wines of the Moment Final Day of Our Wines of the Moment
2022 Bandol Rosé
2022 Bandol Rosé
Alain Pascal preparing a feast
© Tom Wolf
Way back when, I passed the shop windows of what looked like a shoe museum. GOING OUT OF BUSINESS, a handwritten sign announced. I purchased what appeared to be a gold rush-era pair of men's slippers lined with mink fur, and I, unlike the unfortunate mink, have lived happily ever after.
All that to give you all an idea of what it is like to swallow Gros 'Noré's new Bandol Rosé. Comfort wine, the way it slides down one's gullet. A luxurious physical sensation from start to finish.
When I'm in France, Alain the winemaker is almost a neighbor. Five minutes' drive. I've seen him improving his rosé year after year, and this year's belongs in your glass. Swirl, sniff, swallow.
Alain Pascal preparing a feast
© Tom Wolf
---
| | |
| --- | --- |
| Wine Type: | Rosé |
| Vintage: | 2022 |
| Bottle Size: | 750mL |
| Blend: | 54% Mourvèdre, 25% Cinsault, 19% Grenache, 2% Clairette |
| Appellation: | Bandol |
| Country: | France |
| Region: | Provence |
| Producer: | Domaine du Gros 'Noré |
| Winemaker: | Alain Pascal |
| Vineyard: | 30 years average, 13 ha |
| Soil: | 54% Mourvèdre, 25% Cinsault, 19% Grenache, 2% Clairette |
| Farming: | Organic (certified) |
| Alcohol: | 13.5% |
More from this Producer or Region
About The Producer
Domaine du Gros 'Noré
About The Region
Provence
Perhaps there is no region more closely aligned with the history to Kermit Lynch Wine Merchant than Provence. Provence is where Richard Olney, an American ex-pat and friend of Alice Waters, lived, and introduced Kermit to the great producers of Provence, most importantly Domaine Tempier of Bandol. Kermit also spends upwards of half his year at his home in a small town just outside of Bandol.

Vitis vinifera first arrived in France via Provence, landing in the modern day port city of Marseille in the 6th century BC. The influence of terroir on Provençal wines goes well beyond soil types. The herbs from the pervasive scrubland, often referred to as garrigue, as well as the mistral—a cold, drying wind from the northwest that helps keep the vines free of disease—play a significant role in the final quality of the grapes. Two more elements—the seemingly ever-present sun and cooling saline breezes from the Mediterranean—lend their hand in creating a long growing season that result in grapes that are ripe but with good acidity.

Rosé is arguably the most well known type of wine from Provence, but the red wines, particularly from Bandol, possess a great depth of character and ability to age. The white wines of Cassis and Bandol offer complexity and ideal pairings for the sea-influenced cuisine. Mourvèdre reigns king for red grapes, and similar to the Languedoc and Rhône, Grenache, Cinsault, Marsanne, Clairette, Rolle, Ugni Blanc among many other grape varieties are planted.
More from Provence or France
Vintage Chart Mentality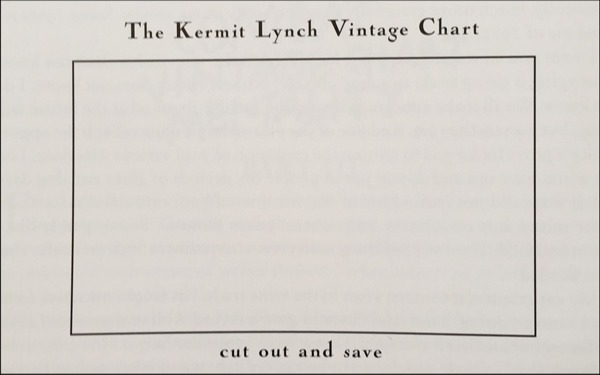 Vintage Chart Mentality
Trust the great winemakers, trust the great vineyards. Your wine merchant might even be trustworthy. In the long run, that vintage strip may be the least important guide to quality on your bottle of wine.—Kermit Lynch