The small, historic Quincy appellation is experiencing a revival! Once highly esteemed, its unparalleled Sauvignon Blancs are now returning to the spotlight after decades spent in the shadow of Sancerre, its northerly neighbor. You'll appreciate the distinctive flavor profile: born from warmer soils, it tastes of ripe, succulent citrus devoid of grassiness, while boasting the same flinty nerve as a good Sancerre. The snappy finish beckons a refill just as the reasonable bottle price will have you coming back for more.
—Anthony Lynch
More from this Producer or Region
About The Producer
Domaine Trotereau
As recently as 50 years ago, the wines of Quincy were more recognized in France for their quality than Sancerre or Pouilly-Fumé, and commanded a higher price. Today the appellation has largely faded from recognition, with cave cooperatives buying up land at pennies on the dollar. Most make bracing, nervy Sauvignons in a typical style that can be produced anywhere. There are precious few willing to take risks to craft the type of wine that made Quincy famous. Pierre Ragon of Domaine Trotereau has been making wines only their terroir can produce since he took the reins in 1973. He is blessed with vines over 100 years old that are still producing exceptional fruit. With pride and excitement, we bring you the real deal from Quincy.
About The Region
Loire
The defining feature of the Loire Valley, not surprisingly, is the Loire River. As the longest river in France, spanning more than 600 miles, this river connects seemingly disparate wine regions. Why else would Sancerre, with its Kimmeridgian limestone terroir be connected to Muscadet, an appellation that is 250 miles away?

Secondary in relevance to the historical, climatic, environmental, and cultural importance of the river are the wines and châteaux of the Jardin de la France. The kings and nobility of France built many hundreds of châteaux in the Loire but wine preceded the arrival of the noblesse and has since out-lived them as well.

Diversity abounds in the Loire. The aforementioned Kimmderidgian limestone of Sancerre is also found in Chablis. Chinon, Bourgueil, and Saumur boast the presence of tuffeau, a type of limestone unique to the Loire that has a yellowish tinge and a chalky texture. Savennières has schist, while Muscadet has volcanic, granite, and serpentinite based soils. In addition to geologic diversity, many, grape varieties are grown there too: Cabernet Franc, Chenin Blanc, Sauvignon Blanc, and Melon de Bourgogne are most prevalent, but (to name a few) Pinot Gris, Grolleau, Pinot Noir, Pineau d'Aunis, and Folle Blanche are also planted. These myriad of viticultural influences leads to the high quality production of every type of wine: red, white, rosé, sparkling, and dessert.

Like the Rhône and Provence, some of Kermit's first imports came from the Loire, most notably the wines of Charles Joguet and Château d'Epiré—two producers who are featured in Kermit's book Adventures on the Wine Route and with whom we still work today.
More from Loire or France
Kermit once said...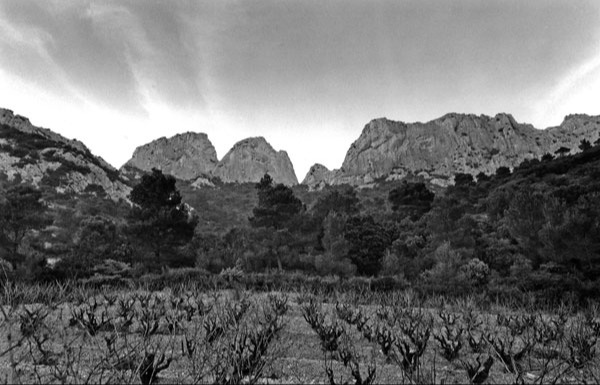 Kermit once said...
Great winemakers, great terroirs, there is never any hurry. And I no longer buy into this idea of "peak" maturity. Great winemakers, great terroirs, their wines offer different pleasures at different ages.
Inspiring Thirst, page 312