It would be an oversight to talk about Ostertag and not mention soil, the foremost influence on the family's wines. Their Les Jardins range blends several parcels with diverse geological composition, though a gravelly minerality stands out in this Riesling. Pair it with something clean and simple like fresh crudo, or a chilled appetizer of honeydew melon and burrata, topped with basil and sea salt.
—Jane Augustine
More from this Producer or Region
About The Producer
Domaine Ostertag
To call André Ostertag a revolutionary winemaker is to tell just half the story. He is a pioneer, certainly, but also an ardent environmentalist. After training in Burgundy, André returned to the family domaine in Alsace with renewed zeal: he lowered yields considerably and introduced viticultural and vinification techniques from other regions to his own home ground. He looks for the nuance of terroir rather than the typicity of a grape varietal. André rejects formulaic, scientifically engineered wines, and since going biodynamic in 1997, has been an active member of the natural farming community.
About The Region
Alsace
Tragically, Alsace might be the most misunderstood wine region of France. In spite of its long history of viticulture and tremendous diversity of pedigreed terroirs, a past fraught with marketing mishaps has left consumers baffled as to what exactly to expect inside one of these mysterious tall, thin bottles.

The good news, on the other hand, is that a new wave of quality-oriented growers is working hard to put Alsace in its rightful place as one of the world's most fascinating sources of fine white wine. By embracing tradition, respecting terroir, and making a concerted effort to better communicate the countless virtues their wines have to offer, they have succeeded in putting Alsace back on the map.

Crafted from a number of grape varieties and beautifully interpreting the region's mosaic of soil types, our Alsace imports are by and large dry whites offering exceptional versatility at table. While each of these selections is ready to be uncorked tonight, the finest among them are also capable of maturing for many, many years in a cool cellar. Expect kaleidoscopic aromatics, lively acidities, and loads of terroir transparency in these skillfully crafted masterpieces. Enjoy a foray into the thrilling world of the world's most underrated wine region, and certainly do not hesitate to contact our sales staff with any questions as you take off on this mouth-watering adventure.
More from Alsace or France
Vintage Chart Mentality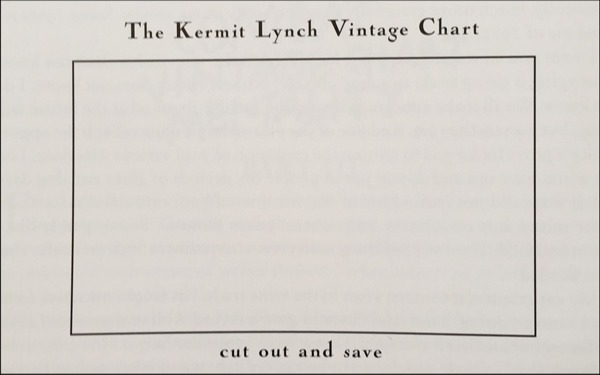 Vintage Chart Mentality
Trust the great winemakers, trust the great vineyards. Your wine merchant might even be trustworthy. In the long run, that vintage strip may be the least important guide to quality on your bottle of wine.—Kermit Lynch