It's no secret that the northern regions of France, such as Burgundy and the Loire, are home to some of the most elegant and refined red wines we import. But when it comes to delicacy and finesse, reds from northern Italy give their French counterparts a run for their money. Whether they're made from bright, perfumed indigenous grapes like Schioppettino and Refosco, or from better-known varieties like Pinot Nero and Merlot, these Italian rossi possess remarkable grace and sophistication, largely thanks to the cool, stony terroir in the foothills of the Alps where they thrive.
Take, for instance, an exciting Merlot we just received for the very first time from Gregoletto, the small azienda in the tiny village of Premaor in the Veneto region. Unlike the opulent, cassis-scented Merlots from Bordeaux's Right Bank, this rendition—with its pretty notes of brambly wild berries and earthy hints of spice—shows a more ethereal, mineral side of the grape. It is refreshing to experience such a different profile of Merlot, reflecting the Veneto's temperate climate and the vines' prized position on steep hillsides that see chilling Alpine breezes and important diurnal shifts.
If you love cool-climate reds, dive into wines from northern Italy—you'll taste outstanding bottles that offer excellent value. I'd start with this Venetian Merlot which, I'd be remiss not to mention, would pair phenomenally well with turkey, brussels sprouts, and sweet potatoes!
---
| | |
| --- | --- |
| Wine Type: | red |
| Vintage: | 2021 |
| Bottle Size: | 750mL |
| Blend: | Merlot |
| Appellation: | Colli Trevigiani |
| Country: | Italy |
| Region: | Veneto |
| Producer: | Gregoletto |
| Vineyard: | 30 years average, 18 ha total |
| Soil: | Sandstone, marl |
| Aging: | Aged one year in botte grande (large cask) |
| Farming: | Traditional |
| Alcohol: | 13% |
---
More from this Producer or Region
/
About The Producer
Gregoletto
The Gregoletto family name can be found in historical archives dating from the late 16th, as viticoltori in the hills of Premaor di Miane, near Valdobbiadene. The family has two real specialties: semi-sparkling wine made sui lieviti or on its lees, and still wine made from grapes most commonly used to make sparkling wine. They are among the very last growers in the Veneto to cultivate the indigenous Verdiso grape, making magnificent tranquillo and sui lieviti bottlings from it. They also make Prosecco in all of its forms: still, demi-sec, semi-sparkling, and metodo classico. The Gregoletto family's wines are incredibly pure, refreshing, and elegant and can be enjoyed effortlessly. They provide instant pleasure.
About The Region
Veneto
Italy's most prolific wine region by volume, the Veneto is the source of some of the country's most notorious plonk: you'll find oceans of insipid Pinot Grigo, thin Bardolino, and, of course, the ubiquitous Prosecco. And yet, the Veneto produces the highest proportion of DOC wine of any Italian region: home to prestigious appellations like Valpolicella, Amarone, and Soave, it is capable of excelling in all three colors, with equally great potential in the bubbly and dessert departments.

With almost 200,000 acres planted, the Veneto has a wealth of terroirs split between the Po Valley and the foothills of the Alps. While the rich soils of the flatlands are conducive to mechanization, high yields, and mass production of bulk wine, the areas to the north offer a fresher climate and a diversity of poor soil types, ideal for food-friendly wines that show a sense of place. Whether it's a charming Prosecco Superiore from the Glera grape, a stony Soave or Gambellara from Garganega, or a Corvina-based red in any style, the Veneto's indigenous grape varieties show real character when worked via traditional production methods.

Since his first visit in 1979, Kermit has regularly returned to the Veneto to enjoy its richness of fine wines and local cuisine. Our collaboration with Corte Gardoni, our longest-running Italian import, is a testament to this. The proximity of beautiful cities like Verona and Venice, with their deep culinary heritage, certainly doesn't hurt, either.
More from Veneto or Italy
Kermit once said...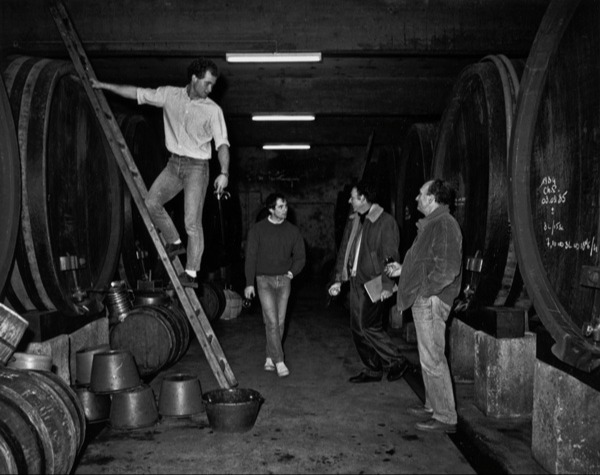 Kermit once said...
For the wines that I buy I insist that the winemaker leave them whole, intact. I go into the cellars now and select specific barrels or cuvées, and I request that they be bottled without stripping them with filters or other devices. This means that many of our wines will arrive with a smudge of sediment and will throw a more important deposit as time goes by, It also means the wine will taste better.