Aubert de Villaine told me that he prefers "understated" wines. An understated Sancerre is not easy to find—you'll encounter more rambunctiousness than finesse, usually. Here, however, is a cuvée spéciale that is not an oaky giant. The vines are fifty to sixty years old, and the wine is aged on its lees eighteen months before bottling. Welcome to depth, complexity, understatement, finesse.
—Kermit Lynch
---
| | |
| --- | --- |
| Wine Type: | white |
| Vintage: | 2021 |
| Bottle Size: | 750mL |
| Blend: | Sauvignon Blanc |
| Appellation: | Sancerre |
| Country: | France |
| Region: | Loire |
| Producer: | Daniel Chotard |
| Winemaker: | Simon Chotard |
| Vineyard: | 25 years average, 1 ha |
| Soil: | Clay, Limestone, Kimmeridgian marl |
| Aging: | Wine ages in foudre for 1 year, after 1 year the wine is racked in stainless tank and ages for an additional 6 months before bottling |
| Farming: | Lutte Raisonnée |
| Alcohol: | 12.5% |
---
More from this Producer or Region
About The Producer
Daniel Chotard
Daniel Chotard and his wife, Brigitte, live just outside Sancerre in the village of Reigny. The Chotard family has been making wine for well over 200 years. The terroir of Sancerre is widely regarded as producing one of the greatest expressions of the Sauvignon Blanc grape. The Chotards grow Pinot Noir as well, used to make both red wine and rosé. Daniel and his son Simon farm the slopes of the village Crezancy-en-Sancerre, a terroir of clay and the famous Kimmeridgian limestone. The hilltop town of Sancerre is surrounded by a commune of villages, each blessed with varieties of a distinct limestone that imbue a lengthy mineral component to its wines.
About The Region
Loire
The defining feature of the Loire Valley, not surprisingly, is the Loire River. As the longest river in France, spanning more than 600 miles, this river connects seemingly disparate wine regions. Why else would Sancerre, with its Kimmeridgian limestone terroir be connected to Muscadet, an appellation that is 250 miles away?

Secondary in relevance to the historical, climatic, environmental, and cultural importance of the river are the wines and châteaux of the Jardin de la France. The kings and nobility of France built many hundreds of châteaux in the Loire but wine preceded the arrival of the noblesse and has since out-lived them as well.

Diversity abounds in the Loire. The aforementioned Kimmderidgian limestone of Sancerre is also found in Chablis. Chinon, Bourgueil, and Saumur boast the presence of tuffeau, a type of limestone unique to the Loire that has a yellowish tinge and a chalky texture. Savennières has schist, while Muscadet has volcanic, granite, and serpentinite based soils. In addition to geologic diversity, many, grape varieties are grown there too: Cabernet Franc, Chenin Blanc, Sauvignon Blanc, and Melon de Bourgogne are most prevalent, but (to name a few) Pinot Gris, Grolleau, Pinot Noir, Pineau d'Aunis, and Folle Blanche are also planted. These myriad of viticultural influences leads to the high quality production of every type of wine: red, white, rosé, sparkling, and dessert.

Like the Rhône and Provence, some of Kermit's first imports came from the Loire, most notably the wines of Charles Joguet and Château d'Epiré—two producers who are featured in Kermit's book Adventures on the Wine Route and with whom we still work today.
More from Loire or France
Kermit once said...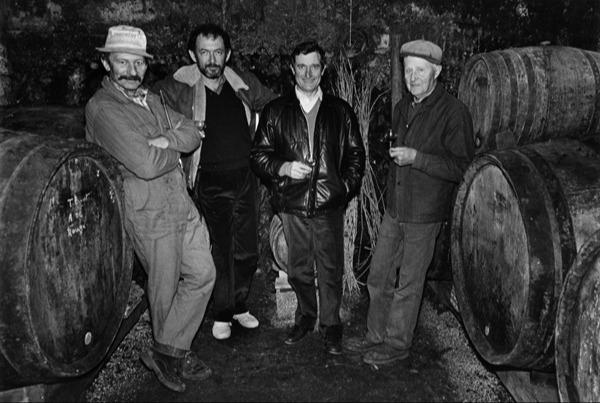 Kermit once said...
I want you to realize once and for all: Even the winemaker does not know what aging is going to do to a new vintage; Robert Parker does not know; I do not know. We all make educated (hopefully) guesses about what the future will bring, but guesses they are. And one of the pleasures of a wine cellar is the opportunity it provides for you to witness the evolution of your various selections. Living wines have ups and downs just as people do, periods of glory and dog days, too. If wine did not remind me of real life, I would not care about it so much.
Inspiring Thirst, page 171