Claude-Edouard and Claude Geoffray
© Château Thivin
---
For lovers of old-fashioned Beaujolais, Thivin's newly arrived 2021 is simply hard to beat.
---
Château Thivin is one of my favorite domaines to visit each year. Our annual tradition of blending the new vintage for our custom KLWM bottling, followed by an intimate and soul-warming lunch of traditional French comfort food expertly prepared by matriarch Evelyne Geoffray, is perhaps the apex of my travels on the wine road.
Accustomed to tasting dark, rich, concentrated wines from the hot and dry vintages that have become so standard in the Beaujolais in recent years, I was in for a surprise when I arrived at the Château on a misty morning this past March. The 2021 growing season, as described by the Geoffray family, represents a throwback to decades past, when cooler conditions led to harvest taking place much later than is the norm today. The grapes brought into the cellar had modest sugar levels and vibrant acidities, setting the stage for lighter wines characterized by lively freshness rather than overt ripeness.
Thivin also makes a phenomenal wine in hot years, as the Côte de Brouilly's stony terroir always takes the upper hand on bombastic fruit—even if you sometimes have to wade through a sea of succulent wild berries to reach that flinty core. But in years like 2021, the Côte's signature minerality is at the forefront, offering crunchy, smoky nuances from the very first sip. Alcohol is low, the Gamay fruit is pure and bright, and aromas of purple flowers and herbs round out its delightful complexity.
Our unfiltered blend highlights Thivin's wealth of old-vine parcels across several of the Côte de Brouilly's best sites, giving it real depth to complement the vintage's leaner profile. And it will undoubtedly age wonderfully—a recent tasting showed that these wines blossom slowly and beautifully over time, regardless of vintage conditions. For lovers of old-fashioned Beaujolais in all its elegant, high-toned, terroir-driven glory, Thivin's newly arrived 2021 is simply hard to beat.
—Anthony Lynch
---
| | |
| --- | --- |
| Wine Type: | red |
| Vintage: | 2021 |
| Bottle Size: | 750mL |
| Blend: | Gamay |
| Appellation: | Côte de Brouilly |
| Country: | France |
| Region: | Beaujolais |
| Producer: | Château Thivin |
| Winemaker: | Claude-Edouard Geoffray |
| Vineyard: | Average of 50 years, 8.3 ha |
| Soil: | Pierre bleue (metadiorite) |
| Aging: | Ages in oak foudres for six months before bottling |
| Farming: | Organic (certified) |
| Alcohol: | 13.5% |
---
More from this Producer or Region
About The Producer
Château Thivin
It is no surprise that Château Thivin is the benchmark domaine of the Côte de Brouilly; everything about it is exceptional. Built in the fifteenth century on an ancient volcano which juts out steeply into the valley below, Thivin is the oldest estate on Mont Brouilly, In 1976, Richard Olney took Kermit to visit on their first wine trip together. It was Olney's top recommendation in the whole of the Beaujolais region. The current generation of the Geoffray family continues their tradition. Today their grandnephew Claude, his wife Evelyne, and their son Claude-Edouard continue the tradition as staunch and proud defenders of the terroir of the Côte de Brouilly.
About The Region
Beaujolais
After years of the region's reputation being co-opted by mass-produced Beaujolais Nouveau and the prevalence of industrial farming, the fortunes of vignerons from the Beaujolais have been on the rise in the past couple of decades. Much of this change is due to Jules Chauvet, a prominent Beaujolais producer who Kermit worked with in the 1980s and arguably the father of the natural wine movement, who advocated not using herbicides or pesticides in vineyards, not chaptalizing, fermenting with ambient yeasts, and vinifying without SO2. Chief among Chauvet's followers was Marcel Lapierre and his three friends, Jean Foillard, Guy Breton, and Jean-Paul Thévenet—a group of Morgon producers who Kermit dubbed "the Gang of Four." The espousal of Chauvet's methods led to a dramatic change in quality of wines from Beaujolais and with that an increased interest and appreciation for the AOC crus, Villages, and regular Beaujolais bottlings.

The crus of Beaujolais are interpreted through the Gamay grape and each illuminate the variety of great terroirs available in the region. Distinguishing itself from the clay and limestone of Burgundy, Beaujolais soils are predominantly decomposed granite, with pockets of blue volcanic rock. The primary vinification method is carbonic maceration, where grapes are not crushed, but instead whole clusters are placed in a tank, thus allowing fermentation to take place inside each grape berry.

Much like the easy-going and friendly nature of many Beaujolais vignerons, the wines too have a lively and easy-drinking spirit. They are versatile at table but make particularly good matches with the local pork sausages and charcuterie. Though often considered a wine that must be drunk young, many of the top crus offer great aging potential.
More from Beaujolais or France
Where the newsletter started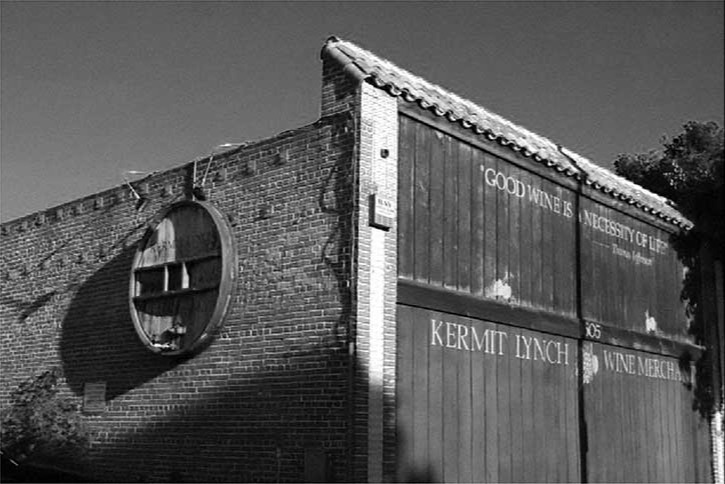 Where the newsletter started
Every three or four months I would send my clients a cheaply made list of my inventory, but it began to dawn on me that business did not pick up afterwards. It occurred to me that my clientele might not know what Château Grillet is, either. One month in 1974 I had an especially esoteric collection of wines arriving, so I decided to put a short explanation about each wine into my price list, to try and let my clients know what to expect when they uncorked a bottle. The day after I mailed that brochure, people showed up at the shop, and that is how these little propaganda pieces for fine wine were born.—Kermit Lynch