The star of this spry and punchy red, and surely the unsung hero of the region, is the Corvina grape. The Piccoli brothers farm their vines in the grand cru area of Bardolino, just southeast of Lake Garda, giving us an absolutely lip-smacking rosso. It's vibrant, fresh, and fun.
—Jane Augustine
---
| | |
| --- | --- |
| Wine Type: | red |
| Vintage: | 2020 |
| Bottle Size: | 750mL |
| Blend: | Corvina |
| Appellation: | Corvina Veronese IGT |
| Country: | Italy |
| Region: | Veneto |
| Producer: | Corte Gardoni |
| Winemaker: | Piccoli Family |
| Vineyard: | 25 years, 23 ha total |
| Soil: | Moraine |
| Aging: | Eight months of aging in 30-hectoliter Slavonian oak botti |
| Farming: | Sustainable |
| Alcohol: | 12.5% |
---
More from this Producer or Region
About The Producer
Corte Gardoni
Gianni Piccoli grew up surrounded by orchards, but he had wine in his blood so when an estate with extensive vineyards came up for sale in 1971 he jumped at the opportunity. For years the grapes of Corte Gardoni were sold to cooperatives, but Gianni felt that their wines lacked soul. In 1980 he broke those ties and began crafting his own wine, focusing on the character of the grapes and terroir. Gianni passed away in 2020 with nearly fifty vintages under his belt at the helm of Corte Gardoni. In the process, he became a local hero and proud ambassador of Bardolino and its terroir, setting the stage for a new generation to follow in his path creating humble, delicious wines from native grapes that speak to the region and its traditions. Corte Gardoni remains in capable hands today, as Gianni's three sons had already taken over daily operations at the winery several years before his passing. Mattia is in charge of the cellar, Stefano manages the vineyards, and Andrea helps both of his brothers and also handles the commercialization of the wines.
About The Region
Veneto
Italy's most prolific wine region by volume, the Veneto is the source of some of the country's most notorious plonk: you'll find oceans of insipid Pinot Grigo, thin Bardolino, and, of course, the ubiquitous Prosecco. And yet, the Veneto produces the highest proportion of DOC wine of any Italian region: home to prestigious appellations like Valpolicella, Amarone, and Soave, it is capable of excelling in all three colors, with equally great potential in the bubbly and dessert departments.

With almost 200,000 acres planted, the Veneto has a wealth of terroirs split between the Po Valley and the foothills of the Alps. While the rich soils of the flatlands are conducive to mechanization, high yields, and mass production of bulk wine, the areas to the north offer a fresher climate and a diversity of poor soil types, ideal for food-friendly wines that show a sense of place. Whether it's a charming Prosecco Superiore from the Glera grape, a stony Soave or Gambellara from Garganega, or a Corvina-based red in any style, the Veneto's indigenous grape varieties show real character when worked via traditional production methods.

Since his first visit in 1979, Kermit has regularly returned to the Veneto to enjoy its richness of fine wines and local cuisine. Our collaboration with Corte Gardoni, our longest-running Italian import, is a testament to this. The proximity of beautiful cities like Verona and Venice, with their deep culinary heritage, certainly doesn't hurt, either.
More from Veneto or Italy
Kermit once said...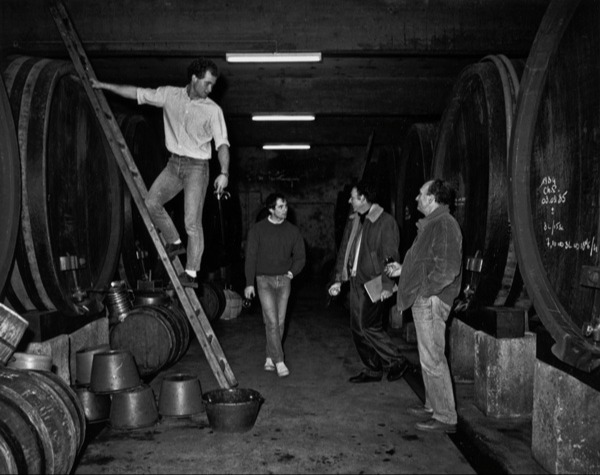 Kermit once said...
For the wines that I buy I insist that the winemaker leave them whole, intact. I go into the cellars now and select specific barrels or cuvées, and I request that they be bottled without stripping them with filters or other devices. This means that many of our wines will arrive with a smudge of sediment and will throw a more important deposit as time goes by, It also means the wine will taste better.