These last two are the Alibrands' first-ever single-vineyard dry whites made from 100% Sémillon vinified and raised in oak. Ripe and opulent, this cuvée further blossoms with an hour in a decanter.
—Dixon Brooke
More from this Producer or Region
About The Region
Bordeaux
Often considered the wine capital of the world, Bordeaux and its wines have captured the minds, hearts, and wallets of wine drinkers for centuries. For many, the wines provide an inalienable benchmark against which all other wines are measured.

Bordeaux is divided into three winegrowing regions with the city that gives the region its name in the near geographical center. The "right bank," or the area located east of the Dordogne River, produces wines that are predominantly Merlot with small amounts of Cabernet Franc and Cabernet Sauvignon. The "left bank" is located to the west of the Garonne River and produces wines dominated by Cabernet Sauvignon, with Cabernet Franc, Merlot, Malbec and Petit Verdot.

The third region, Entre-Deux-Mers, lies between both rivers and produces white wines from Sauvignon Blanc, Sémillon, and Muscadelle. Though technically in the left bank, it is worth noting the appellation of Sauternes, which produces arguably the world's most famous sweet wines from Sauvignon Blanc, Sémillon, and Muscadelle as well.

Though many top Bordeaux wines are sold en primeur (in advance of their bottling) and often through a middleman known as a negoçiant, Kermit has always preferred to purchase directly from the winemaker. For more than three decades he has sought out small producers, who make classic Bordeaux wines and are willing to play outside the negoçiant system. This ethic has led to longstanding relationships, excellent prices, and perhaps most important—wines of great value and longevity.
More from Bordeaux or France
Kermit once said...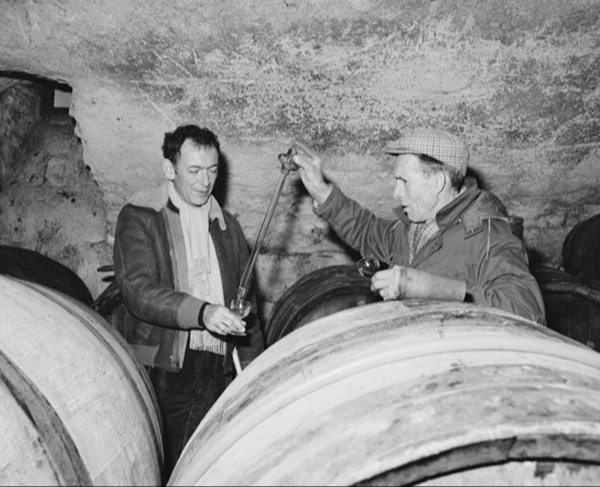 Kermit once said...
When buying red Burgundy, I think we should remember:

1. Big wines do not age better than light wine.
2. A so-called great vintage at the outset does not guarantee a great vintage for the duration.
3. A so-called off vintage at the outset does not mean the wines do not have a brilliant future ahead of them.
4. Red Burgundy should not taste like Guigal Côte-Rôtie, even if most wine writers wish it would.
5. Don't follow leaders; watch yer parking meters.
Inspiring Thirst, page 174