My first trip to Alsace was a journey of discovery. Rather than taking the autoroute straight through the Vosges Mountains via a tunnel, I opted for the treacherous winding road to the crest and back down, through a deserted, possibly haunted forest, with near-zero visibility thanks to the fog that rivaled even San Francisco's ugliest June morning. After my rental Fiat Panda huffed and puffed up the mountain, nearly running out of gas and leaving me for dead in these icy, desolate woods, I finally attained the summit. As I coasted my way down the hill, everything changed. The fog cleared, exposing a lush green hillside covered with vineyards. The sun showed its face, birds began chirping, and I swear a choir began chanting an ode to summertime in the background. I had arrived in Alsace.
If wine can have the power of transportation, here is your ticket to Alsace. Open a bottle of Albert Boxler's Crémant and immerse yourself in the region's abundant natural beauty and quaint, charming villages. This sparkling wine, from a fervent ambassador of long-standing local tradition, is produced in the méthode champenoise before being aged for two years to reveal a pristine representation of both terroir and generations of savoir-faire. The fine bead, elegant bouquet, and stimulating minerality are your pass to a sure moment of liberation and relief from all of life's foggy, uphill roads. If you're like me, you'll certainly want to go back.
—Anthony Lynch
---
| | |
| --- | --- |
| Wine Type: | sparkling |
| Vintage: | 2018 |
| Bottle Size: | 750mL |
| Blend: | 30% Pinot Blanc, 50% Pinot Auxerrois, 20% Pinot Noir |
| Appellation: | Crémant d'Alsace |
| Country: | France |
| Region: | Alsace |
| Producer: | Albert Boxler |
| Winemaker: | Jean Boxler |
| Vineyard: | 8 – 40 years |
| Soil: | Alluvial |
| Aging: | Bottles aged sur lattes for minimum 24 months |
| Farming: | Organic (practicing) |
| Alcohol: | 12.5% |
---
More from this Producer or Region
About The Producer
Albert Boxler
Jean Boxler, currently rules the roost at this humble yet incredibly exciting domaine. Intense and serious about his land, his craft, and his wine, Jean is the genius behind what are certainly some of the finest white wines in Alsace (and the world). World War II brought Jean's grandfather Albert back to Niedermorschwihr from Montana, where he was busy enjoying the natural gifts of big sky country. He became the first generation to bottle the family's production himself and commercialize it under a family label. Tasting through the entire range of Boxler's wines is ample proof of the fact that Alsace, along with Burgundy, is the source of the world's most complex, exciting white wines, and will probably always be.
About The Region
Alsace
Tragically, Alsace might be the most misunderstood wine region of France. In spite of its long history of viticulture and tremendous diversity of pedigreed terroirs, a past fraught with marketing mishaps has left consumers baffled as to what exactly to expect inside one of these mysterious tall, thin bottles.

The good news, on the other hand, is that a new wave of quality-oriented growers is working hard to put Alsace in its rightful place as one of the world's most fascinating sources of fine white wine. By embracing tradition, respecting terroir, and making a concerted effort to better communicate the countless virtues their wines have to offer, they have succeeded in putting Alsace back on the map.

Crafted from a number of grape varieties and beautifully interpreting the region's mosaic of soil types, our Alsace imports are by and large dry whites offering exceptional versatility at table. While each of these selections is ready to be uncorked tonight, the finest among them are also capable of maturing for many, many years in a cool cellar. Expect kaleidoscopic aromatics, lively acidities, and loads of terroir transparency in these skillfully crafted masterpieces. Enjoy a foray into the thrilling world of the world's most underrated wine region, and certainly do not hesitate to contact our sales staff with any questions as you take off on this mouth-watering adventure.
More from Alsace or France
Kermit once said...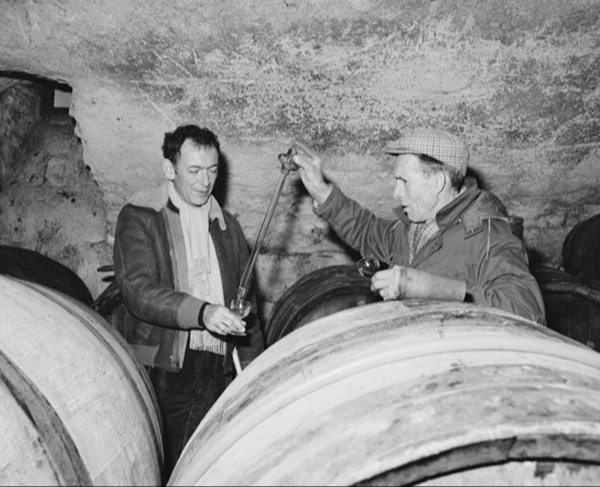 Kermit once said...
When buying red Burgundy, I think we should remember:

1. Big wines do not age better than light wine.
2. A so-called great vintage at the outset does not guarantee a great vintage for the duration.
3. A so-called off vintage at the outset does not mean the wines do not have a brilliant future ahead of them.
4. Red Burgundy should not taste like Guigal Côte-Rôtie, even if most wine writers wish it would.
5. Don't follow leaders; watch yer parking meters.
Inspiring Thirst, page 174