Discount Eligible $340.00
We have been importing the soulful Langhe reds of the Porro family since the 1997 vintage. Guido took over from his father, Giovanni (still a permanent presence at the azienda), in 1996. Their cantina is at the entrance of the eastern Barolo fortress town of Serralunga d'Alba as you approach from the north. It hangs over the top of a steep western-facing slope, overlooking their vineyards in the Lazzarito cru, from which they craft two Baroli, a Barbera and a Dolcetto. For the past twenty years these wines have, for the very most part, remained firmly off the radar of most serious collectors of Langhe wines; instead they get snapped up faithfully by fans of authentic, affordable, trattoria wines who enjoy them young and old.
The family's acquisition of the historical heart of Serralunga's most famous and qualitative cru (and one of the best in all of Barolo) stands to change all this. Guido remains the same humble contadino, but the buzz surrounding this fortuitous turn of events—at the azienda, within the region, and beyond its borders—has been significant. This is Guido's inaugural vintage of Vigna Rionda, and it will be a lot of fun to follow the evolution of this great terroir as he continues to unlock its full potential over time. I have now tasted the next four vintages in cask, and, suffice it to say, the future is very bright. The nobility of this terroir is immediately evident, as the vinification is the same as for his other crus but the wine is not! It simultaneously has more finesse and more concentration, with beautiful aromatics, length, perfume, density, and noble structure. There is an extra gear here on every level.
—Dixon Brooke
Discount Eligible $340.00
---
| | |
| --- | --- |
| Wine Type: | red |
| Vintage: | 2015 |
| Bottle Size: | 1.5L |
| Blend: | Nebbiolo |
| Appellation: | Barolo |
| Country: | Italy |
| Region: | Piedmont |
| Producer: | Guido Porro |
| Winemaker: | Guido Porro |
| Vineyard: | Planted in 2011, .55 ha |
| Soil: | Clay, limestone |
| Aging: | Aged three years in 15- to 25-hl Slavonian oak botti |
| Farming: | Sustainable |
| Alcohol: | 14.5% |
---
More from this Producer or Region
About The Producer
Guido Porro
Reviews and notes on Guido Porro regularly refer to him as "under the radar": his wines are worthy of a stellar reputation, but he is too easygoing and unassuming to worry about whether the wine-drinking public recognizes his name. Guido is the fourth generation at an estate that has always been passed from father to son, and although fifth-generation Fabio hasn't reached middle school, he is already showing a keen curiosity in the family business. The Porros continue to work just as their predecessors did—the only major change over the last few decades has been the decision to bottle at the estate. Guido sticks to traditional methods in the vineyards and cellar, and he never gets in the way of the grapes' natural expression.
About The Region
Piedmont
Kermit's love affair with the great reds of Piemonte dates back to the early days of his career: the very first container he imported from Italy, in fact, featured legendary 1971 and 1974 Barolos from Vietti and Aldo Conterno. Regular visits since then have seen our portfolio grow to now twelve Piemontesi estates, with a strong focus on the rolling hills of the Langhe.

Nebbiolo rules these majestic, vine-covered marl slopes, giving Italy's most mystifyingly complex, nuanced, and age-worthy reds. When crafted via traditional production methods—long macerations and extensive aging in enormous oak botti—the powerful, yet incredibly refined Barolos and Barbarescos provide haunting aromatics of tar, raspberry, incense, tea, roses, and more. At times austere in their youth but well worth the wait, they pair beautifully with the hearty local cuisine starring veal in many forms, braised beef, pastas like tajarin and agnolotti, and of course, Alba's famous white truffles.

Surrounded by mountains on three sides, Piemonte's climate is continental, with baking hot summers and cold winters. Nebbiolo is only part of the story here: juicy, fruity Barberas and Dolcettos represent the bread and butter throughout the region, and other native grapes like Freisa, Croatina, and the white Arneis are also noteworthy. Value abounds in the Monferrato, while Alto Piemonte also has its share of thrills to provide.

Every corner of Piemonte is rich with tradition, especially when wine is concerned. It's no wonder we have been singing the region's praises for over forty years.
More from Piedmont or Italy
Kermit once said...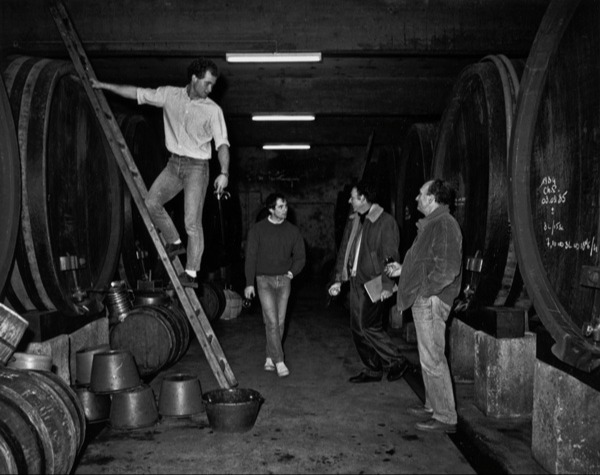 Kermit once said...
For the wines that I buy I insist that the winemaker leave them whole, intact. I go into the cellars now and select specific barrels or cuvées, and I request that they be bottled without stripping them with filters or other devices. This means that many of our wines will arrive with a smudge of sediment and will throw a more important deposit as time goes by, It also means the wine will taste better.
Discount Eligible $340.00