When we talk about the most crisp and mineral white wines from France and Italy that so clearly convey their terroirs, we often use Muscadet and Chablis as the benchmarks. But it's time that the best Garganegas, like this one from Davide Vignato, join their French counterparts in the conversation.
Take one sip of Davide's El Gian and you know immediately that its almost salty stoniness bespeaks a unique and exhilarating terroir. In the foothills of the Italian Alps east of Verona, Davide farms fourteen hectares of mostly Garganega planted in soils composed of basalt columns originating from a small, extinct volcano just a few hundred meters from the winery. His decades-long organic and biodynamic practices have made him a pioneer here in the small village of Gambellara, and they are crucial to capturing an astonishingly pure expression of terroir in the glass. Bracing, floral, and stony, this bianco offers notes of herbs, citrus, and pear that make it a perfect match for all varieties of fresh seafood. Try it with Georgeanne Brennan's spaghetti nero with Dungeness crab for an exquisite and regionally inspired springtime feast.
—Tom Wolf
---
| | |
| --- | --- |
| Wine Type: | white |
| Vintage: | 2021 |
| Bottle Size: | 750mL |
| Blend: | Garganega |
| Appellation: | Gambellara Classico |
| Country: | Italy |
| Region: | Veneto |
| Producer: | Davide Vignato |
| Winemaker: | Davide Vignato |
| Vineyard: | 25 years average |
| Soil: | Volcanic, basalt soil |
| Aging: | Ages on fine lees in stainless steel tank for 5 months until bottling |
| Farming: | Biodynamic (practicing) |
| Alcohol: | 11.5% |
---
More from this Producer or Region
/
About The Producer
Davide Vignato
One of our most "off-the-beaten-track" discoveries of the past few years is the azienda of young Davide Vignato. The family history behind Davide's wines began when his grandfather, Rinaldo, purchased a small plot of land in the hills of Gambellara and planted vines. Davide's father, Gian Domenico, was the first in the family to make wine from those grapes, and as of 1997, Davide introduced organic and biodynamic farming to the vineyards with the goal of producing deeply mineral wines that would reflect Gambellara's unique soils. The grapes are harvested by hand, fermentation is spontaneous, and the wines are aged on fine lees. These wines represent not only authentic and compelling terroir expression, but also great values.
About The Region
Veneto
Italy's most prolific wine region by volume, the Veneto is the source of some of the country's most notorious plonk: you'll find oceans of insipid Pinot Grigo, thin Bardolino, and, of course, the ubiquitous Prosecco. And yet, the Veneto produces the highest proportion of DOC wine of any Italian region: home to prestigious appellations like Valpolicella, Amarone, and Soave, it is capable of excelling in all three colors, with equally great potential in the bubbly and dessert departments.

With almost 200,000 acres planted, the Veneto has a wealth of terroirs split between the Po Valley and the foothills of the Alps. While the rich soils of the flatlands are conducive to mechanization, high yields, and mass production of bulk wine, the areas to the north offer a fresher climate and a diversity of poor soil types, ideal for food-friendly wines that show a sense of place. Whether it's a charming Prosecco Superiore from the Glera grape, a stony Soave or Gambellara from Garganega, or a Corvina-based red in any style, the Veneto's indigenous grape varieties show real character when worked via traditional production methods.

Since his first visit in 1979, Kermit has regularly returned to the Veneto to enjoy its richness of fine wines and local cuisine. Our collaboration with Corte Gardoni, our longest-running Italian import, is a testament to this. The proximity of beautiful cities like Verona and Venice, with their deep culinary heritage, certainly doesn't hurt, either.
More from Veneto or Italy
Kermit once said...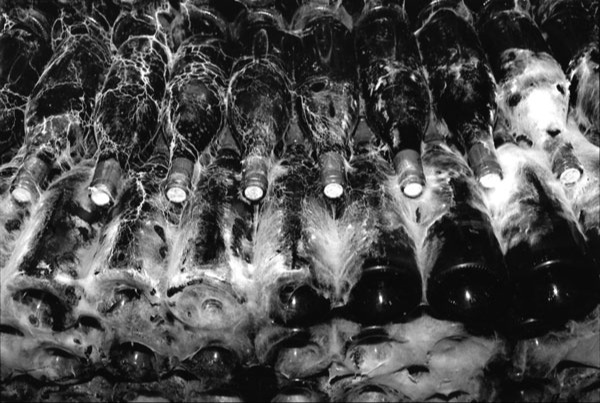 Kermit once said...
Let the brett nerds retire into protective bubbles, and whenever they thirst for wine it can be passed in to them through a sterile filter. Those of us on the outside can continue to enjoy complex, natural, living wines.
Inspiring Thirst, page 236