In this rare cuvée, fruit from Terrebrune's most recent plantings is bottled in its vibrant youth, after just a short passage in neutral foudres. It answers the question of what Mourvèdre grown in Bandol tastes like freshly plucked off the vine. A vivid purple color, it is akin to fresh-pressed wild berries and perfumed hints of flowers and pepper, without the dense, grippy tannin characteristic of a true Bandol made from older vines. Be sure to cool down the bottle a bit before generously splashing this deliciously smooth Provençal juice into your glass.
—Anthony Lynch
---
| | |
| --- | --- |
| Wine Type: | red |
| Vintage: | 2021 |
| Bottle Size: | 750mL |
| Blend: | 80% Mourvèdre, 10% Grenache, 10% Cinsault |
| Appellation: | Vin de Pays du Mont Caume |
| Country: | France |
| Region: | Provence |
| Producer: | Domaine de Terrebrune |
| Winemaker: | Reynald Delille |
| Vineyard: | 3 - 4 years |
| Soil: | Limestone pebbles in brown clay, blue limestone bedrock, marl |
| Aging: | Fermented in stainless steel, aged 5 months in foudre |
| Farming: | Organic (certified) |
| Alcohol: | 13% |
---
More from this Producer or Region
About The Producer
Domaine de Terrebrune
In 1963, Georges Delille bought what would become Domaine de Terrebrune, a property in Ollioules, just east of Bandol, framed by the Mediterranean and the mountain called Gros-Cerveau (Big Brain), dotted with olive groves and scenic views—an idyllic spot. Mass overhauling and reconstruction of vineyards followed the declaration of A.O.C. Bandol (1941); vignerons were eager to revive the noble Mourvèdre grape. Georges spent ten years just renovating the property, terracing hillsides and replanting vineyards following the advice of Lucien Peyraud. In 1980, his son Reynald joined him, and together they launched their first bottled vintage of Domaine de Terrebrune, which Reynald named in honor of the rich, brown soils they farm.
About The Region
Provence
Perhaps there is no region more closely aligned with the history to Kermit Lynch Wine Merchant than Provence. Provence is where Richard Olney, an American ex-pat and friend of Alice Waters, lived, and introduced Kermit to the great producers of Provence, most importantly Domaine Tempier of Bandol. Kermit also spends upwards of half his year at his home in a small town just outside of Bandol.

Vitis vinifera first arrived in France via Provence, landing in the modern day port city of Marseille in the 6th century BC. The influence of terroir on Provençal wines goes well beyond soil types. The herbs from the pervasive scrubland, often referred to as garrigue, as well as the mistral—a cold, drying wind from the northwest that helps keep the vines free of disease—play a significant role in the final quality of the grapes. Two more elements—the seemingly ever-present sun and cooling saline breezes from the Mediterranean—lend their hand in creating a long growing season that result in grapes that are ripe but with good acidity.

Rosé is arguably the most well known type of wine from Provence, but the red wines, particularly from Bandol, possess a great depth of character and ability to age. The white wines of Cassis and Bandol offer complexity and ideal pairings for the sea-influenced cuisine. Mourvèdre reigns king for red grapes, and similar to the Languedoc and Rhône, Grenache, Cinsault, Marsanne, Clairette, Rolle, Ugni Blanc among many other grape varieties are planted.
More from Provence or France
Kermit once said...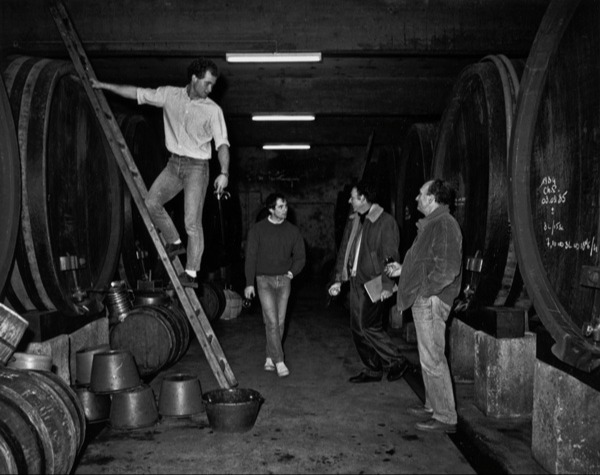 Kermit once said...
For the wines that I buy I insist that the winemaker leave them whole, intact. I go into the cellars now and select specific barrels or cuvées, and I request that they be bottled without stripping them with filters or other devices. This means that many of our wines will arrive with a smudge of sediment and will throw a more important deposit as time goes by, It also means the wine will taste better.