Besides having one of the best names in the wine business, Cyriaque Rozier has one of the best jobs. He runs the historic estate of La Roque with carte blanche. The domaine is his oyster, if you will. While he long ago certified the estate as biodynamic, brought in the horses for working the vines, and banished all additives from the cellars, he now gets to focus and experiment on the details. This rosé, for instance—so pale you need to hold it up to a light and squint to see that slight flicker of rosé hue—blurs the line between rosé and blanc. It seems like a peek at a fifth dimension, a middle ground between light and shadow (cue Twilight Zone music). The look and the aromas say blanc, and yet the suave, velvet pillow feel says rosé. I say, "Yes, please!"
—Chris Santini
---
| | |
| --- | --- |
| Wine Type: | Rosé |
| Vintage: | 2021 |
| Bottle Size: | 750mL |
| Blend: | 30% Mourvèdre, 30% Cinsault, 20% Grenache, 20% Syrah |
| Appellation: | Pic Saint Loup |
| Country: | France |
| Region: | Languedoc-Roussillon |
| Producer: | Château La Roque |
| Winemaker: | Cyriaque Rozier |
| Vineyard: | 3 ha, 20 years |
| Soil: | Clay, limestone scree |
| Aging: | Aged in stainless steel tanks for 4 months |
| Farming: | Biodynamic (certified) |
| Alcohol: | 12.5% |
---
More from this Producer or Region
About The Producer
Château La Roque
The picturesque landscape surrounding historic Château La Roque appears largely unchanged from how it must have been two thousand years ago. Ownership has changed hands many times since the Romans were first here, yet the soul of this special place remains in tact. Benedictine Monks created the sturdy vaulted-ceiling cellars that still house the bottles today. Winegrowing resumed in the 13th century when the de la Roque brothers planted new vines. Today, Château La Roque is in the capable hands of Cyriaque Rozier. This is unique terroir. Garrigue, the aromatic scrub brush that dominates the land, asserts its presence among the vines. In the wise words of KLWM salesperson/legend, Michael Butler, "Lay down a few cases of history."
About The Region
Languedoc-Roussillon
Ask wine drinkers around the world, and the word "Languedoc" is sure to elicit mixed reactions. On the one hand, the region is still strongly tied to its past as a producer of cheap, insipid bulk wine in the eyes of many consumers. On the other hand, it is the source of countless great values providing affordable everyday pleasure, with an increasing number of higher-end wines capable of rivaling the best from other parts of France.

While there's no denying the Languedoc's checkered history, the last two decades have seen a noticeable shift to fine wine, with an emphasis on terroir. Ambitious growers have sought out vineyard sites with poor, well draining soils in hilly zones, curbed back on irrigation and the use of synthetic fertilizers and pesticides, and looked to balance traditional production methods with technological advancements to craft wines with elegance, balance, and a clear sense of place. Today, the overall quality and variety of wines being made in the Languedoc is as high as ever.

Shaped like a crescent hugging the Mediterranean coast, the region boasts an enormous variety of soil types and microclimates depending on elevation, exposition, and relative distance from the coastline and the cooler foothills farther inland. While the warm Mediterranean climate is conducive to the production of reds, there are world-class whites and rosés to be found as well, along with stunning dessert wines revered by connoisseurs for centuries.
More from Languedoc-Roussillon or France
Kermit once said...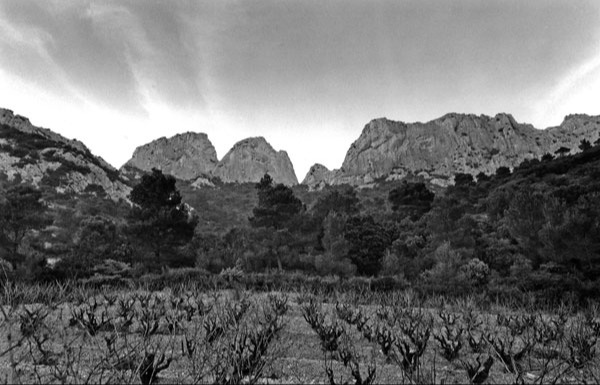 Kermit once said...
Great winemakers, great terroirs, there is never any hurry. And I no longer buy into this idea of "peak" maturity. Great winemakers, great terroirs, their wines offer different pleasures at different ages.
Inspiring Thirst, page 312