More than any other grower, Marcel Lapierre did pioneering work that paved the way for what we do today as a company. I feel fortunate to have joined many casual gatherings at the rough-hewn oak table in the courtyard of his domaine in Les Che?nes, a hamlet of Villie? Morgon. His cuverie, cellars, family home, and some of his vineyards were all there, and it was the heartbeat of the entire Beaujolais region. As I lived only an hour away in Beaune, I went often, and he was the type of person who made sure that a foreigner with a funny accent felt comfortable. Wine would be poured, saucisson would be sliced, and (most importantly) conversation would flow—open debate reigned and nothing was off the table, so to speak. Several of the most memorable bottles of Beaujolais I've ever tasted were served there. A magnum of his 1989 Morgon looms large. Marcel was always generous and gracious with his time and knowledge, and he had an insatiable curiosity and ever-present mischievous sparkle.
I know he would be extremely proud of the way his talented son and daughter, Mathieu and Camille, have maintained the standards he set during his storied career. They have continued to imbue their wines and the domaine that bears Marcel's name with the same spirit, and the wines are as good as ever. Lapierre is still on the cutting edge globally of what can be achieved with zero-intervention, totally free winemaking, which of course must by definition start with maniacal viticulture that produces grapes that can stand up to the rigors of their technique (or lack thereof!). The Lapierre name remains a benchmark for the greatest Gamay produced on planet Earth. Their new and recently delivered 2021 vintage is delicious proof.
—Dixon Brooke
---
| | |
| --- | --- |
| Wine Type: | red |
| Vintage: | 2021 |
| Bottle Size: | 750mL |
| Blend: | Gamay |
| Appellation: | Morgon |
| Country: | France |
| Region: | Beaujolais |
| Producer: | M. & C. Lapierre |
| Winemaker: | Mathieu & Camille Lapierre |
| Vineyard: | 60 yrs, 10 ha |
| Soil: | Granitic Gravel |
| Aging: | Wines aged on fine lees in old Burgundy barrels |
| Farming: | Organic (certified) |
| Alcohol: | 12.5% |
---
More from this Producer or Region
About The Producer
M. & C. Lapierre
Little would we know that when Marcel Lapierre took over the family domaine from his father in 1973, he was on the road to becoming a legend. Following the example of traditionalist Jules Chauvet, Marcel and three other local vignerons Jean Foillard, Jean-Paul Thévenet, and Guy Breton, soon hoisted the flag of Chauvet's back-to-nature movement. Kermit dubbed this clan the Gang of Four, and the name has stuck ever since. The Gang called for a return to the old practices of viticulture and vinification. Sadly, the 2010 vintage was Marcel's last. His children, Mathieu and Camille continue the great work that their father pioneered, introducing biodynamic vineyard practices and ensuring that Marcel's legacy lives on.
About The Region
Beaujolais
After years of the region's reputation being co-opted by mass-produced Beaujolais Nouveau and the prevalence of industrial farming, the fortunes of vignerons from the Beaujolais have been on the rise in the past couple of decades. Much of this change is due to Jules Chauvet, a prominent Beaujolais producer who Kermit worked with in the 1980s and arguably the father of the natural wine movement, who advocated not using herbicides or pesticides in vineyards, not chaptalizing, fermenting with ambient yeasts, and vinifying without SO2. Chief among Chauvet's followers was Marcel Lapierre and his three friends, Jean Foillard, Guy Breton, and Jean-Paul Thévenet—a group of Morgon producers who Kermit dubbed "the Gang of Four." The espousal of Chauvet's methods led to a dramatic change in quality of wines from Beaujolais and with that an increased interest and appreciation for the AOC crus, Villages, and regular Beaujolais bottlings.

The crus of Beaujolais are interpreted through the Gamay grape and each illuminate the variety of great terroirs available in the region. Distinguishing itself from the clay and limestone of Burgundy, Beaujolais soils are predominantly decomposed granite, with pockets of blue volcanic rock. The primary vinification method is carbonic maceration, where grapes are not crushed, but instead whole clusters are placed in a tank, thus allowing fermentation to take place inside each grape berry.

Much like the easy-going and friendly nature of many Beaujolais vignerons, the wines too have a lively and easy-drinking spirit. They are versatile at table but make particularly good matches with the local pork sausages and charcuterie. Though often considered a wine that must be drunk young, many of the top crus offer great aging potential.
More from Beaujolais or France
Kermit once said...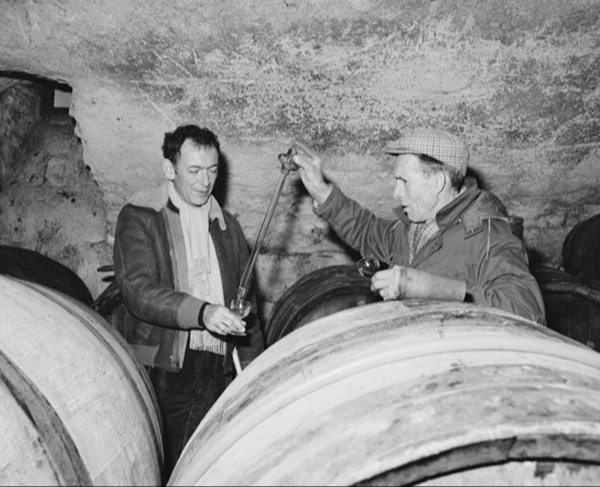 Kermit once said...
When buying red Burgundy, I think we should remember:

1. Big wines do not age better than light wine.
2. A so-called great vintage at the outset does not guarantee a great vintage for the duration.
3. A so-called off vintage at the outset does not mean the wines do not have a brilliant future ahead of them.
4. Red Burgundy should not taste like Guigal Côte-Rôtie, even if most wine writers wish it would.
5. Don't follow leaders; watch yer parking meters.
Inspiring Thirst, page 174