Corsicans are no strangers to rugged landscapes and isolated areas, yet there is only one spot on the island that has earned the name of "Desert" among Corsicans. The Agriates Desert is a large, rugged, empty, and arid swath of land between the Cap Corse and Calvi on the northern end of the island. There are no cities nor towns, only one small paved road, and only one hamlet, with a dozen or so inhabitants. It's swept year round with a hot and dry wind called the libecciu, and it's been an empty area for nearly a century. The wind combined with the clay-granite soils makes growing anything here extremely laborious, with the vines requiring constant plowing to allow the roots to forage deep for water and nutrients.
Three generations ago, when Laurent Giacometti purchased a derelict, sprawling vineyard and estate in the middle of the Désert des Agriates, the previous owner handed him the keys and dryly told him, "Welcome to the village where it's always raining somewhere else." For centuries, agricultural plans and projects have failed spectacularly in this aptly named desert, and the Giacomettis struggled for many years as well. It took more than three decades of organic farming and persistence for their vines to learn to go deep, away from the parched and sea-salt-crusted surface. Made from Niellucciu blended with a splash of Sciaccarellu, this classy rosé is remarkably fresh, pure, and focused, with a filtered-through-granite minerality—as well-suited to apéritifs as an al fresco summer feast!
—Chris Santini
---
| | |
| --- | --- |
| Wine Type: | Rosé |
| Vintage: | 2021 |
| Bottle Size: | 750mL |
| Blend: | 95% Niellucciu, 5% Sciaccarellu |
| Appellation: | Patrimonio |
| Country: | France |
| Region: | Corsica |
| Producer: | Domaine Giacometti |
| Winemaker: | Simon Giacometti |
| Vineyard: | Planted in 1988, 1990, 1993 |
| Soil: | Granite |
| Aging: | Aged 5 months in stainless steel before bottling |
| Farming: | Organic (practicing) |
| Alcohol: | 12.5% |
---
More from this Producer or Region
/
About The Producer
Domaine Giacometti
In 1987, the Giacometti family boldly moved to the Agriates Desert, a large, rugged, empty swath of land between the Cap Corse and Calvi on the northern end of Corsica. They took over vines that had been planted in 1966, which authorities granted Patrimonio appellation status, even though the estate is several miles from the village of Patrimonio. The founder, Christian Giacometti, has gradually been handing over the reins to his daughter and son after 25 years of constant and heroic labor to make wine in an inhospitable land. They continue on with their unique and eminently drinkable style of Patrimonio, while experimenting with Sciaccarellu plantings (extremely rare for Patrimonio) and offering a glimpse of great things to come.
About The Region
Corsica
I first set foot on the island in 1980. I remember looking down from the airplane window seeing alpine forest and lakes and thinking, uh oh, I got on the wrong plane. Then suddenly I was looking down into the beautiful waters of the Mediterranean. Corsica is a small, impossibly tall island, the tail of the Alp chain rising out of the blue sea.—Kermit Lynch

Kermit's first trip to the island proved fruitful, with his discovery of Clos Nicrosi's Vermentino. More than thirty years later, the love affair with Corsica has only grown as we now import wines from ten domaines that cover the north, south, east, and west of what the French affectionately refer to as l'Île de Beauté.

Corsica is currently experiencing somewhat of a renaissance—interest has never been higher in the wines and much of this is due to growers focusing on indigenous and historical grapes found on the island. Niellucciu, Sciarcarellu, and Vermentinu are widely planted but it is now common to find bottlings of Biancu Gentile and Carcaghjolu Neru as well as blends with native varieties like Rossola Bianca, Minustellu, or Montaneccia.

As Kermit described above, Corsica has a strikingly mountainous landscape. The granite peaks top out above 9,000 feet. The terroir is predominantly granite with the exception of the Patrimonio appellation in the north, which has limestone, clay, and schist soils.The wines, much like their southern French counterparts make for great pairings with the local charcuterie, often made from Nustrale, the native wild boar, as well as Brocciu, the Corsican goats milk cheese that is best served within 48 hours of it being made.
More from Corsica or France
Where the newsletter started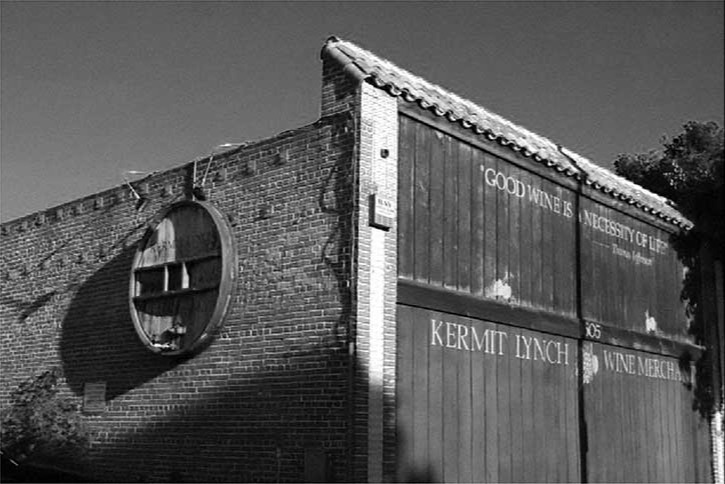 Where the newsletter started
Every three or four months I would send my clients a cheaply made list of my inventory, but it began to dawn on me that business did not pick up afterwards. It occurred to me that my clientele might not know what Château Grillet is, either. One month in 1974 I had an especially esoteric collection of wines arriving, so I decided to put a short explanation about each wine into my price list, to try and let my clients know what to expect when they uncorked a bottle. The day after I mailed that brochure, people showed up at the shop, and that is how these little propaganda pieces for fine wine were born.—Kermit Lynch