Ludovic Engelvin has overcome his fair share of obstacles recently: devastating hailstorms, frost, drought, even getting kicked out of his own cellar and being suddenly forced to move... We might call his new rosé a wine of resilience, then, as its strong character mirrors that of its maker. A pure Mourvèdre vinified and bottled with zero added sulfur, it is a deeply colored rosé from the stony, garrigue-laden backcountry of the Gard. If you've yet to experience one of Ludovic's creations, this textural delight is the perfect place to start.
More from this Producer or Region
About The Producer
Ludovic Engelvin
Situated halfway between the Pic Saint Loup and Tavel, the area known as the Languedoc Gardois has long been a viticultural hotspot: the Romans, who made the nearby city of Nîmes an important hub, established a thriving winemaking industry here centuries ago. Local wines enjoyed notable prestige throughout history, but a shift toward productivity over quality in the twentieth century all but stripped the region of its reputation. Thanks to forward-thinking young vignerons like Ludovic Engelvin, these historic terroirs are once again living up to their former glory.
After studies in viticulture and enology, Ludovic interned in cellars across southern France, Spain, and the Loire Valley, including a formative stint with the late Didier Dagueneau. Next, he took a sommelier position at a reputable establishment in Provence, where he honed his tasting skills and earned numerous awards, before leaving the restaurant world to open his own wine shop outside of Nîmes. Keen on making his own wine, he rented some vines, then sold the shop two years later to become a full-time vigneron. The 2013 vintage, vinified in his tiny cellar in the sleepy village of Vic-le-Fesq, marked his first commercial releases.
About The Region
Languedoc-Roussillon
Ask wine drinkers around the world, and the word "Languedoc" is sure to elicit mixed reactions. On the one hand, the region is still strongly tied to its past as a producer of cheap, insipid bulk wine in the eyes of many consumers. On the other hand, it is the source of countless great values providing affordable everyday pleasure, with an increasing number of higher-end wines capable of rivaling the best from other parts of France.

While there's no denying the Languedoc's checkered history, the last two decades have seen a noticeable shift to fine wine, with an emphasis on terroir. Ambitious growers have sought out vineyard sites with poor, well draining soils in hilly zones, curbed back on irrigation and the use of synthetic fertilizers and pesticides, and looked to balance traditional production methods with technological advancements to craft wines with elegance, balance, and a clear sense of place. Today, the overall quality and variety of wines being made in the Languedoc is as high as ever.

Shaped like a crescent hugging the Mediterranean coast, the region boasts an enormous variety of soil types and microclimates depending on elevation, exposition, and relative distance from the coastline and the cooler foothills farther inland. While the warm Mediterranean climate is conducive to the production of reds, there are world-class whites and rosés to be found as well, along with stunning dessert wines revered by connoisseurs for centuries.
More from Languedoc-Roussillon or France
Kermit once said...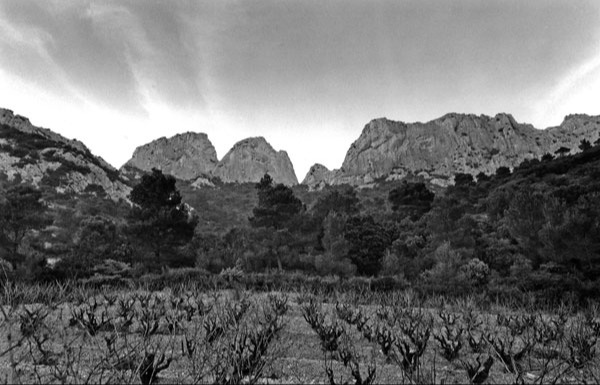 Kermit once said...
Great winemakers, great terroirs, there is never any hurry. And I no longer buy into this idea of "peak" maturity. Great winemakers, great terroirs, their wines offer different pleasures at different ages.
Inspiring Thirst, page 312