Assembled in great years from the Neveu family's best parcels around Verdigny, Chavignol, and Sancerrre, "PFX"—as it is affectionately known by the family—is raised in oak rather than stainless steel (the former being the historical norm in Sancerre). The three principal terroirs of Sancerre are incorporated: terres blanches, silex, and caillottes. Caillottes are the small, sharp limestone rocks that litter the surface of many Sancerre vineyards, including the Neveu family's largest vineyard, "Les Embouffants." The oak adds a grain and level of class and backbone that raises this cuvée a step above the domaine's classic Sancerre bottling. PFX ages more slowly and gracefully than most Sancerres, and it makes a great cellar diversification play.
—Dixon Brooke
---
| | |
| --- | --- |
| Wine Type: | white |
| Vintage: | 2020 |
| Bottle Size: | 750mL |
| Blend: | Sauvignon Blanc |
| Appellation: | Sancerre |
| Country: | France |
| Region: | Loire |
| Producer: | Domaine Roger Neveu |
| Winemaker: | Éric & Jean-Philippe Neveu |
| Vineyard: | 40+ years, .3 ha |
| Soil: | Clay, Limestone, Silex |
| Aging: | Wine aged in oak barrels for 12 months |
| Farming: | Lutte Raisonnée |
| Alcohol: | 14% |
---
More from this Producer or Region
/
About The Producer
Domaine Roger Neveu
The Neveu family's roots in the Loire Valley are nothing short of impressive. Local archives show Jean Neveu lived in the village of Verdigny (where the family still resides) as early as the 12th century, and they already ran an agricultural estate in 1641. Grapevines made up part of the property in the 19th century, but were destroyed by phylloxera. It wasn't until after WWII that winegrowing regained its place at the domaine. It was Roger Neveu, father to current owners, brothers Éric and Jean-Philippe, who during the 1970s brought the domaine into its contemporary incarnation. The family tradition has already added another generation as both Éric and Jean-Philippe's sons have started helping out in the vineyards and cellar.
About The Region
Loire
The defining feature of the Loire Valley, not surprisingly, is the Loire River. As the longest river in France, spanning more than 600 miles, this river connects seemingly disparate wine regions. Why else would Sancerre, with its Kimmeridgian limestone terroir be connected to Muscadet, an appellation that is 250 miles away?

Secondary in relevance to the historical, climatic, environmental, and cultural importance of the river are the wines and châteaux of the Jardin de la France. The kings and nobility of France built many hundreds of châteaux in the Loire but wine preceded the arrival of the noblesse and has since out-lived them as well.

Diversity abounds in the Loire. The aforementioned Kimmderidgian limestone of Sancerre is also found in Chablis. Chinon, Bourgueil, and Saumur boast the presence of tuffeau, a type of limestone unique to the Loire that has a yellowish tinge and a chalky texture. Savennières has schist, while Muscadet has volcanic, granite, and serpentinite based soils. In addition to geologic diversity, many, grape varieties are grown there too: Cabernet Franc, Chenin Blanc, Sauvignon Blanc, and Melon de Bourgogne are most prevalent, but (to name a few) Pinot Gris, Grolleau, Pinot Noir, Pineau d'Aunis, and Folle Blanche are also planted. These myriad of viticultural influences leads to the high quality production of every type of wine: red, white, rosé, sparkling, and dessert.

Like the Rhône and Provence, some of Kermit's first imports came from the Loire, most notably the wines of Charles Joguet and Château d'Epiré—two producers who are featured in Kermit's book Adventures on the Wine Route and with whom we still work today.
More from Loire or France
Kermit once said...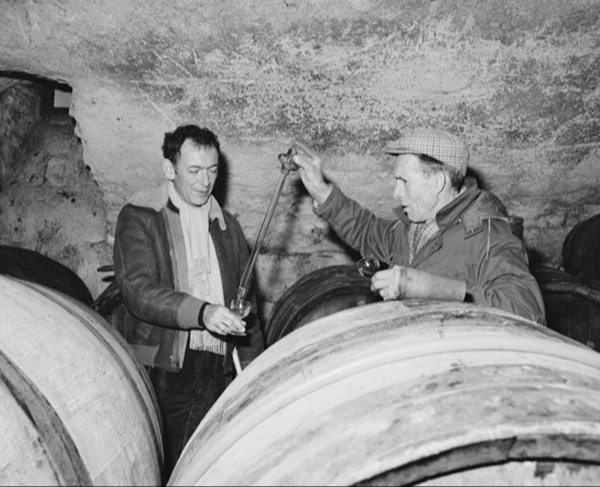 Kermit once said...
When buying red Burgundy, I think we should remember:

1. Big wines do not age better than light wine.
2. A so-called great vintage at the outset does not guarantee a great vintage for the duration.
3. A so-called off vintage at the outset does not mean the wines do not have a brilliant future ahead of them.
4. Red Burgundy should not taste like Guigal Côte-Rôtie, even if most wine writers wish it would.
5. Don't follow leaders; watch yer parking meters.
Inspiring Thirst, page 174