Imagine our delight a few years ago when we stumbled upon the Saint-Aubins of Domaine Larue—beautifully precise, terroir-driven expressions from a collection of the appellation's top sites. They fully capture the charm Saint-Aubin can deliver, at a quality-to-price ratio that will make other Burgundies red in the face. This premier cru bottling masterfully showcases the "noble reduction" that winemakers and consumers chase after, starting on an enticing hint of gunflint that gradually opens to hedonistic notes of butter and toast, remaining taut and poised throughout. It's simply hard not to like.
—Anthony Lynch
---
| | |
| --- | --- |
| Wine Type: | white |
| Vintage: | 2019 |
| Bottle Size: | 750mL |
| Blend: | Chardonnay |
| Appellation: | Saint-Aubin |
| Country: | France |
| Region: | Burgundy |
| Producer: | Domaine Larue |
| Winemaker: | Didier, Denis, and Bruno Larue |
| Vineyard: | .94 ha, planted in 1969, 1973, 1985, 1994 |
| Soil: | Clay, Limestone |
| Aging: | Aged sur-lie for 10-12 months with occasional lees stirring |
| Farming: | Lutte Raisonnée |
| Alcohol: | 14% |
---
More from this Producer or Region
About The Producer
Domaine Larue
The Larue holdings are spread between the two villages of Saint-Aubin and Puligny-Montrachet. These holdings include seven premier crus, on south, southeast, and southwestern facing slopes, grown on variations of clay soils with a high concentration of limestone. The domaine's premier crus vineyard in Puligny-Montrachet, La Garenne, sits at a high altitude in the Hameau de Blagny, bordering Meursault. Their most prized vineyard, Saint-Aubin premier cru "Murgers des Dents de Chien," shares its name with the Dents de Chien lieu-dit of Le Montrachet that is right around the corner and is capable of producing wine that can age and improve in the bottle for decades.
About The Region
Burgundy
In eastern central France, Burgundy is nestled between the wine regions of Champagne to the north, the Jura to the east, the Loire to the west, and the Rhône to the south. This is the terroir par excellence for producing world-class Pinot Noir and Chardonnay.

The southeast-facing hillside between Dijon in the north and Maranges in the south is known as the Côte d'Or or "golden slope." The Côte d'Or comprises two main sections, both composed of limestone and clay soils: the Côte de Nuits in the northern sector, and the Côte de Beaune in the south. Both areas produce magnificent whites and reds, although the Côte de Beaune produces more white wine and the Côte de Nuits more red.

Chablis is Burgundy's northern outpost, known for its flinty and age-worthy Chardonnays planted in Kimmeridgian limestone on an ancient seabed. Vézelay is a smaller area south of Chablis with similar qualities, although the limestone there is not Kimmeridgian.

To the south of the Côte de Beaune, the Côte Chalonnaise extends from Chagny on its northern end, down past Chalon-sur-Saône and encompasses the appellations of Bouzeron in the north, followed by Rully, Mercurey, Givry, and Montagny.

Directly south of the Chalonnaise begins the Côte Mâconnais, which extends south past Mâcon to the hamlets of Fuissé, Vinzelles, Chaintré, and Saint-Véran. The Mâconnais is prime Chardonnay country and contains an incredible diversity of soils.
More from Burgundy or France
Kermit once said...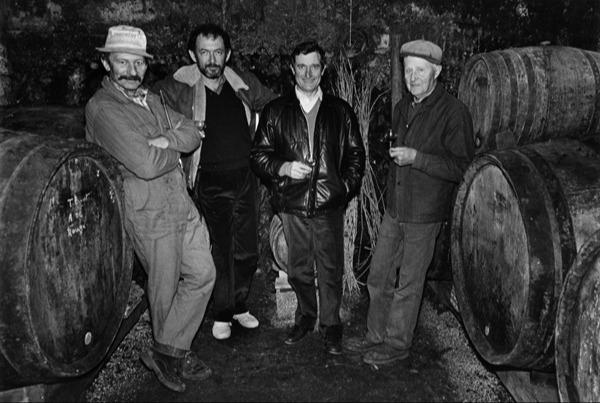 Kermit once said...
I want you to realize once and for all: Even the winemaker does not know what aging is going to do to a new vintage; Robert Parker does not know; I do not know. We all make educated (hopefully) guesses about what the future will bring, but guesses they are. And one of the pleasures of a wine cellar is the opportunity it provides for you to witness the evolution of your various selections. Living wines have ups and downs just as people do, periods of glory and dog days, too. If wine did not remind me of real life, I would not care about it so much.
Inspiring Thirst, page 171