The Macvin winemaking style can be traced back to the 14th century. François Rousset-Martin makes this Macvin with unfermented Jura Savagnin. The juice and must are cooked down and reduced by half. It's then fortified with a neutral spirit and aged in barrel. The end result is a complex and thought-provoking wine loaded with notes of dried fruits, herbs, and citrus zest. Pair with the region's famous Comté cheese.
—Cassie Majidi
More from this Producer or Region
About The Producer
François Rousset-Martin
François Rousset-Martin's raison d'être is to better know and understand the incredible terroirs in which he is invested. His new project near the amazing town of Baume-les Messieurs holds great potential once the vines are of age. His current work is most focused on making previously inconceivable wines within the Château Chalon appellation, labeled as Côtes du Jura since he makes them in a non-oxidative (ouillé or topped-up) style. Vinified by climat with little to no sulfur and bottled unfined and unfiltered, the Rousset wines are complex and persistent, falling somewhere along the spectrum of floral and delicate, exotic and savory.
About The Region
Jura
The Jura wine world is a fascinating, mysterious, and at times confusing one. The region's recent surge in popularity on American wine lists lies in contrast with how strange its wines come across to the uninitiated, with many of its indigenous production methods and quirky winemakers requiring more than an introduction for one to fully savor their virtues. We firmly believe, however, that the pleasure at stake is well worth a slight detour to study the wild world of Jura.

Jura tradition calls for aging whites sous voile, or under a fine "veil" of yeast that grows over wine in barrel that has not been topped-off (non ouillé) to compensate for evaporation. The voile effectively slows the process of oxidation, while chemical reactions between these microorganisms and the wine below give rise to a highly distinctive and complex set of aromas. Often hinting at walnuts, beeswax, oriental spices, cheese rind, and brine, wines aged sous voile can come as a shock to the unhabituated palate. Their textural and aromatic singularity naturally sets them in a category of their own at table, perhaps the best setting in which to gain an appreciation for such wines.

Many Jura producers also produce more conventional whites in an ouillé, or topped-off style, as is practiced in Burgundy–or for that matter, in essentially all the white wines we are accustomed to. This method preserves fresh fruit flavors without the rather rustic, often funky oxidative notes typical of wines aged sous voile.
Kermit once said...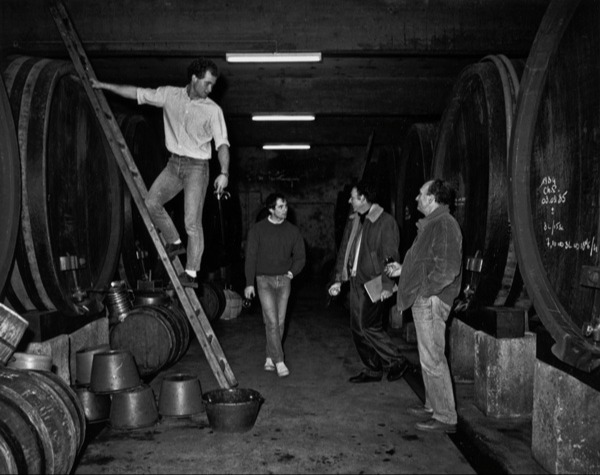 Kermit once said...
For the wines that I buy I insist that the winemaker leave them whole, intact. I go into the cellars now and select specific barrels or cuvées, and I request that they be bottled without stripping them with filters or other devices. This means that many of our wines will arrive with a smudge of sediment and will throw a more important deposit as time goes by, It also means the wine will taste better.