Speaking of Burgundian anomalies, how about Pinot Blanc? Burgundian Pinot Blanc—which a few growers in Savigny and Nuits-Saint-Georges have selected and propagated over time—is Pinot Noir that has lost its color due to a mutation. While Savigny still has a scattering of Pinot Blanc vines, the Guillemots are of the rare few who use it as a main component of their blanc (this one is 70% Pinot Blanc and 30% Chardonnay). Fermented and aged in a barrel made of mixed staves of acacia and oak (another rarity for the region), it is long and creamy, with zip and a wide aromatic range. As it ages, it gets a bit racier, the fruit a bit more exotic. Right now, the 2018 vintage is spot on, for those of you who may have put a bottle or two aside. The Guillemots tell me that the 1979, out of magnum, is pure Pinot Blanc perfection, if you have any still sitting around. (Sadly, we may just have to take their word on that one!)
—Chris Santini
---
| | |
| --- | --- |
| Wine Type: | white |
| Vintage: | 2021 |
| Bottle Size: | 750mL |
| Blend: | 70% Pinot Blanc, 30% Chardonnay |
| Appellation: | Savigny-lès-Beaune |
| Country: | France |
| Region: | Burgundy |
| Producer: | Domaine Pierre Guillemot |
| Winemaker: | Jean-Pierre Guillemot |
| Vineyard: | 55 years, 1.3 ha |
| Soil: | Limestone, Gravel |
| Aging: | Wine is aged in barrel for 18 months and in bottle for 6 months before release |
| Farming: | Lutte Raisonnée |
| Alcohol: | 13% |
---
More from this Producer or Region
About The Producer
Domaine Pierre Guillemot
The Guillemot family has worked Savigny-lès-Beaune vines for eight generations (!) and produces wines with classic Burgundian finesse and balance, all while leaving us a reminder of Savigny's rustic character. But do not be fooled into thinking that this means they lack aging potential; the Guillemots are very proud of their old wines and thankfully have the foresight to set aside a good supply and follow their wines' development over the years. A recent tasting at the domaine included a 1989 and 1975 Savigny Blanc, as well as the '90, '88, '85, '82, '76, '72, and '64 Rouge. There was not a single tired bottle in the bunch. We challenge anyone to find a better deal on Burgundies that are built to last like these!
About The Region
Burgundy
In eastern central France, Burgundy is nestled between the wine regions of Champagne to the north, the Jura to the east, the Loire to the west, and the Rhône to the south. This is the terroir par excellence for producing world-class Pinot Noir and Chardonnay.

The southeast-facing hillside between Dijon in the north and Maranges in the south is known as the Côte d'Or or "golden slope." The Côte d'Or comprises two main sections, both composed of limestone and clay soils: the Côte de Nuits in the northern sector, and the Côte de Beaune in the south. Both areas produce magnificent whites and reds, although the Côte de Beaune produces more white wine and the Côte de Nuits more red.

Chablis is Burgundy's northern outpost, known for its flinty and age-worthy Chardonnays planted in Kimmeridgian limestone on an ancient seabed. Vézelay is a smaller area south of Chablis with similar qualities, although the limestone there is not Kimmeridgian.

To the south of the Côte de Beaune, the Côte Chalonnaise extends from Chagny on its northern end, down past Chalon-sur-Saône and encompasses the appellations of Bouzeron in the north, followed by Rully, Mercurey, Givry, and Montagny.

Directly south of the Chalonnaise begins the Côte Mâconnais, which extends south past Mâcon to the hamlets of Fuissé, Vinzelles, Chaintré, and Saint-Véran. The Mâconnais is prime Chardonnay country and contains an incredible diversity of soils.
More from Burgundy or France
Kermit once said...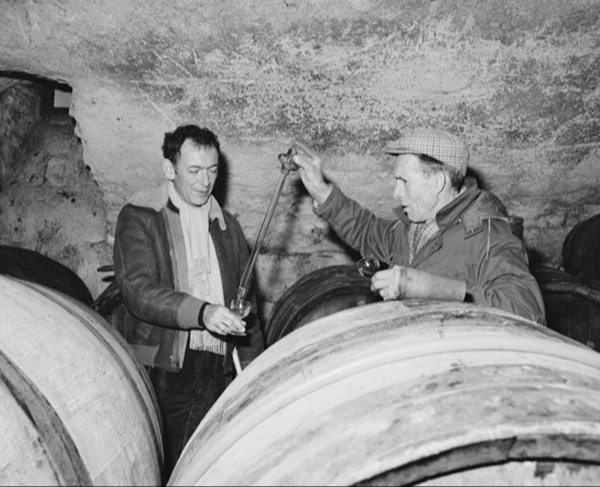 Kermit once said...
When buying red Burgundy, I think we should remember:

1. Big wines do not age better than light wine.
2. A so-called great vintage at the outset does not guarantee a great vintage for the duration.
3. A so-called off vintage at the outset does not mean the wines do not have a brilliant future ahead of them.
4. Red Burgundy should not taste like Guigal Côte-Rôtie, even if most wine writers wish it would.
5. Don't follow leaders; watch yer parking meters.
Inspiring Thirst, page 174