Rosé season is back! Wait a minute—rosé season never left. Rosé season is just a social construct designed to deprive us of one of the most delicious, refreshing, versatile beverages in the world for several months out of the year. Is it a marketing scam? A ploy from the devil? A social media campaign carried out by jealous producers of full-bodied reds?
Forgive me for getting off topic. The Corbières Gris de Gris is back in stock—that's why we're here. The 2017 has a delicate, pale salmon color, tantalizing as ever, and it is succulently fruity on the nose and palate. "Succulent" in the sense of biting into a ripe fruit—or, rather, a cornucopia of ripe fruits—and feeling them burst under your teeth, spattering your taste buds with delectable flavors of fresh citrus and berries. And then, the finish: crisp, dry, lip-smacking as ever. Rosé season lasts 365 days, my friends, and the calendar has just renewed!
—Anthony Lynch
---
| | |
| --- | --- |
| Wine Type: | Rosé |
| Vintage: | 2017 |
| Bottle Size: | 750mL |
| Blend: | 50% Grenache Gris, 40% Grenache Noir & Carignan, 10% Cinsault & Mour. |
| Appellation: | Corbières |
| Country: | France |
| Region: | Languedoc-Roussillon |
| Producer: | Domaine de Fontsainte |
| Winemaker: | Bruno Laboucarié |
| Vineyard: | 46.2 ha |
| Soil: | Silica, clay, limestone (gravelly with large galets, or rounded stones) |
| Aging: | Wines rest for one month before bottling to preserve freshness and aromatic intensity |
| Farming: | Lutte Raisonnée |
| Alcohol: | 12.5% |
---
More from this Producer or Region
About The Producer
Domaine de Fontsainte
The first vineyards at Domaine de Fontsainte were planted by the Romans. The original domaine was built around a thermal spring, which was later named for the local, 12th-century patron saint, Saint Siméon; hence Fontsainte—the saint's fount. Yves Laboucarié's family has been making wine here since the 17th century. For over 30 years, KLWM has been proudly importing his wine, and now we work with his son, Bruno. Like his father, he believes in the family's legacy of innovation. He has re-equipped the cellars, replanted vines, and added new cuvées. It's no secret why we've been working with them since '78. Year in and year out, they are the best. The fairness of their pricing allows us to offer incredible values to our clientele.
About The Region
Languedoc-Roussillon
Ask wine drinkers around the world, and the word "Languedoc" is sure to elicit mixed reactions. On the one hand, the region is still strongly tied to its past as a producer of cheap, insipid bulk wine in the eyes of many consumers. On the other hand, it is the source of countless great values providing affordable everyday pleasure, with an increasing number of higher-end wines capable of rivaling the best from other parts of France.

While there's no denying the Languedoc's checkered history, the last two decades have seen a noticeable shift to fine wine, with an emphasis on terroir. Ambitious growers have sought out vineyard sites with poor, well draining soils in hilly zones, curbed back on irrigation and the use of synthetic fertilizers and pesticides, and looked to balance traditional production methods with technological advancements to craft wines with elegance, balance, and a clear sense of place. Today, the overall quality and variety of wines being made in the Languedoc is as high as ever.

Shaped like a crescent hugging the Mediterranean coast, the region boasts an enormous variety of soil types and microclimates depending on elevation, exposition, and relative distance from the coastline and the cooler foothills farther inland. While the warm Mediterranean climate is conducive to the production of reds, there are world-class whites and rosés to be found as well, along with stunning dessert wines revered by connoisseurs for centuries.
More from Languedoc-Roussillon or France
Where the newsletter started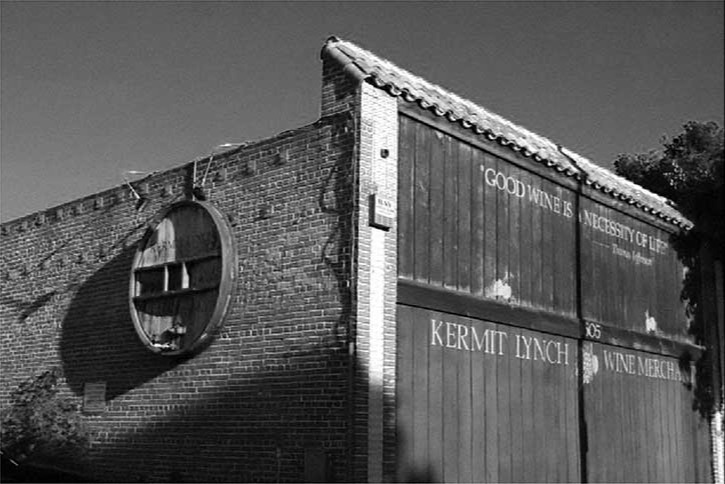 Where the newsletter started
Every three or four months I would send my clients a cheaply made list of my inventory, but it began to dawn on me that business did not pick up afterwards. It occurred to me that my clientele might not know what Château Grillet is, either. One month in 1974 I had an especially esoteric collection of wines arriving, so I decided to put a short explanation about each wine into my price list, to try and let my clients know what to expect when they uncorked a bottle. The day after I mailed that brochure, people showed up at the shop, and that is how these little propaganda pieces for fine wine were born.—Kermit Lynch