La Châtelaine is a single-vineyard bottling, and if I'm remembering the story correctly, the image on the label is a woodcut that a family member once found when cleaning out their house—it was simply too beautiful to throw away.
If the Galerne is typique, then La Châtelaine highlights what may be the best terroir of Vézelay and why this little appellation is on the map in the first place. With a style that hews more closely to Chablis than to Côte d'Or, La Châtelaine shows off a mouth-coating, deep, earthy, mineral side.
—Clark Z. Terry
---
| | |
| --- | --- |
| Wine Type: | white |
| Vintage: | 2017 |
| Bottle Size: | 750mL |
| Blend: | Chardonnay |
| Appellation: | Bourgogne Vézelay |
| Country: | France |
| Region: | Burgundy |
| Producer: | Domaine de la Cadette |
| Winemaker: | Valentin Montanet |
| Vineyard: | 25 years, 13.5 ha total |
| Soil: | Clay, Limestone |
| Aging: | Wine is aged for 7 to 10 months in stainless steel before bottling |
| Farming: | Organic (certified) |
| Alcohol: | 12.5% |
---
More from this Producer or Region
About The Producer
Domaine de la Cadette
When Jean and Catherine Montanet planted their first vineyards in 1987, the fruit was destined for vinification in their very own cave coopérative, which saw its first vintage bottled in 1990. As general manager of the business, Jean quickly found his feet as a capable vigneron. Unable to fully express themselves as vignerons at the coop and determined to continue working organically, the Montanets finally split off and founded their own label, Domaine de la Cadette, taking their vineyards with them. Their son Valentin joined them in 2010 and now manages the domaine, espousing his parents' philosophy of organic farming and natural vinification to craft refreshing, mineral-driven whites and reds.
About The Region
Burgundy
In eastern central France, Burgundy is nestled between the wine regions of Champagne to the north, the Jura to the east, the Loire to the west, and the Rhône to the south. This is the terroir par excellence for producing world-class Pinot Noir and Chardonnay.

The southeast-facing hillside between Dijon in the north and Maranges in the south is known as the Côte d'Or or "golden slope." The Côte d'Or comprises two main sections, both composed of limestone and clay soils: the Côte de Nuits in the northern sector, and the Côte de Beaune in the south. Both areas produce magnificent whites and reds, although the Côte de Beaune produces more white wine and the Côte de Nuits more red.

Chablis is Burgundy's northern outpost, known for its flinty and age-worthy Chardonnays planted in Kimmeridgian limestone on an ancient seabed. Vézelay is a smaller area south of Chablis with similar qualities, although the limestone there is not Kimmeridgian.

To the south of the Côte de Beaune, the Côte Chalonnaise extends from Chagny on its northern end, down past Chalon-sur-Saône and encompasses the appellations of Bouzeron in the north, followed by Rully, Mercurey, Givry, and Montagny.

Directly south of the Chalonnaise begins the Côte Mâconnais, which extends south past Mâcon to the hamlets of Fuissé, Vinzelles, Chaintré, and Saint-Véran. The Mâconnais is prime Chardonnay country and contains an incredible diversity of soils.
More from Burgundy or France
Kermit once said...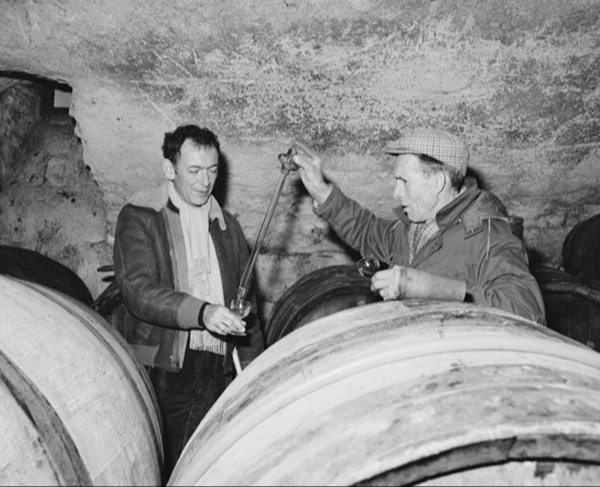 Kermit once said...
When buying red Burgundy, I think we should remember:

1. Big wines do not age better than light wine.
2. A so-called great vintage at the outset does not guarantee a great vintage for the duration.
3. A so-called off vintage at the outset does not mean the wines do not have a brilliant future ahead of them.
4. Red Burgundy should not taste like Guigal Côte-Rôtie, even if most wine writers wish it would.
5. Don't follow leaders; watch yer parking meters.
Inspiring Thirst, page 174