Praise a high-quality sparkling wine by comparing it to Champagne and you risk sounding trite. That said, I will shamefully do just that and admit this bottle of Royal Seyssel had me Royally fooled into thinking I was enjoying a very pricey, very prestigious, vintage Champagne. Its méthode is the same as that of Champagne, though Royal Seyssel offers a unique blend of indigenous Altesse and Molette, and ages three years sur lattes. One sip had me curiously nostalgic for a traditional French breakfast tartine I once enjoyed, whose components of toasty baguette, salted butter, and glossy quince jelly were on full display and living harmoniously in my glass. I wanted the experience to never end.
---
| | |
| --- | --- |
| Wine Type: | sparkling |
| Vintage: | 2015 |
| Bottle Size: | 750mL |
| Blend: | 25% Altesse, 75% Molette |
| Appellation: | Seyssel |
| Country: | France |
| Region: | Savoie, Bugey, Hautes-Alpes |
| Producer: | Lambert de Seyssel |
| Winemaker: | Gérard Lambert, Olivier Varichon |
| Vineyard: | 20-50 years |
| Soil: | Clay, Limestone |
| Aging: | A liqueur de tirage is added to launch the second (sparkling) fermentation and the bottles are stocked sur latte for three to four years |
| Farming: | Biodynamic (practicing) |
| Alcohol: | 12% |
---
More from this Producer or Region
/
About The Producer
Lambert de Seyssel
The "Royal Seyssel" label, launched in 1901 by the Varichon and Clerc families, was considered the best sparkling Seyssel on the market. But when the operation was purchased in the 1990s by a Burgundian négociant, quality suffered, and in 2007 the owners closed the winery. Dismayed to see what their great local wine had come to, Gérard and Catherine Lambert teamed up with Olivier Varichon to buy back the Royal Seyssel label and recreate the wine that was once so renowned. The wines of Seyssel indulge in the same traditional methods used for Champagne, and take it a step further by aging for at least three years before disgorgement.
About The Region
Savoie, Bugey, Hautes-Alpes
Fifteen or twenty years ago, there was little buzz about the wines of Savoie, the Alpine region hugging the Swiss and Italian borders. In fact, most wines from Savoie were some combination of overcropped, thin, searingly acidic, and painfully rustic; even the best examples rarely made it out of the local mountain resorts, where they were served as an après-ski to wash down many a melty croque-monsieur.

But all that has changed, and today Savoie produces a number of top-quality wines in all styles, from simple thirst-quenchers to wines of substantial gravity. Kermit sought out some of these wines early in his career, having imported the spritzy, mineral whites of Apremont and Chignin in the late 1970s.

With vineyards at the foot of the Alps that occasionally climb to higher elevations, Savoie is defined by its mountain-influenced climate and extremely rocky terrain, with abundant limestone. Thanks to a diversity of indigenous grape varieties, quality-oriented growers with the choicest parcels—steep and well-exposed—can craft anything from crisp, low-alcohol whites from Jacquère to deep, gamey reds from Mondeuse. More serious whites are made from Altesse as well as Bergeron, the local name for Roussanne, which the Romans planted on the slopes of Chignin around the same time as they introduced it to the Rhône Valley.

Savoie's diversity of styles and distinct sub-regions, from Arbin to Seyssel to the Bugey (technically not a part of Savoie, but included here for convenience) makes it a fascinating region for the thirsty explorer. There is no better place to look for brisk mountain refreshment.
More from Savoie, Bugey, Hautes-Alpes or France
Kermit once said...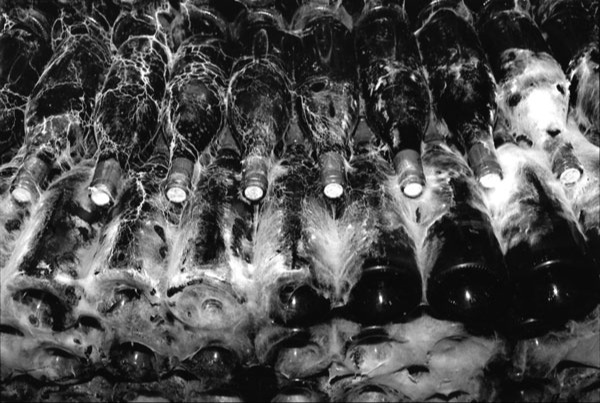 Kermit once said...
Let the brett nerds retire into protective bubbles, and whenever they thirst for wine it can be passed in to them through a sterile filter. Those of us on the outside can continue to enjoy complex, natural, living wines.
Inspiring Thirst, page 236