People often wonder, myself included, how Fontsainte's Gris de Gris can be so good. What sort of sorcery must be involved to consistently offer a wine that is so flawless, so satisfying, and so deliriously value-driven year in and year out?
The domaine's vineyards happen to be situated in the remote "Golden Crescent" area of Les Corbières. Flanked by a pine forest that protects from harsh winds, this pristine, sun-drenched vignoble benefits from Mediterranean sea breezes and a gravelly soil with large, polished stones that regulate temperature. "In the early morning," says Bruno Laboucarié, "while the air is still humid, there is this perfume of pine resin and rock roses, of rosemary and thyme, and aromatic heather that warms up above the vineyard." Every scent that Bruno describes shows up in the glass, which makes his approach to winegrowing crystal-clear: great wine is made in the vineyard. There are no tricks!
As for the eponymous variety that makes up most of the blend, Grenache Gris is a pink-skinned, more characterful version of Grenache Blanc that ripens into a bouquet of fresh nectarine, white cherries, and bergamot. The pale juice released from gently pressing the grapes immediately after harvest preserves the fruit's delicate aromas and transforms into a delicious rosé, purely and simply.
Though part of the appeal of Fontsainte's Gris de Gris is that it's so drinkable on its own—with just a beach read, or some lawn games to pass the time—its adaptability to food only bolsters its charm. Richer fare is lifted by its juicy acidity, salty foods are washed clean. Try it with crisp cold radishes dipped in soft butter, or brinier foods like cracked crabs, pissaladière, or fresh sardines drizzled in olive oil.
—Jane Augustine
---
| | |
| --- | --- |
| Wine Type: | Rosé |
| Vintage: | 2022 |
| Bottle Size: | 750mL |
| Blend: | 90% Grenache Gris, 5% Carignan, 5% Mourvèdre |
| Appellation: | Corbières |
| Country: | France |
| Region: | Languedoc-Roussillon |
| Producer: | Domaine de Fontsainte |
| Winemaker: | Bruno Laboucarié |
| Vineyard: | 46.2 ha |
| Soil: | Silica, clay, limestone (gravelly with large galets, or rounded stones) |
| Aging: | 4-6 months in stainless steel tanks |
| Farming: | Lutte Raisonnée |
| Alcohol: | 13% |
---
More from this Producer or Region
About The Producer
Domaine de Fontsainte
The first vineyards at Domaine de Fontsainte were planted by the Romans. The original domaine was built around a thermal spring, which was later named for the local, 12th-century patron saint, Saint Siméon; hence Fontsainte—the saint's fount. Yves Laboucarié's family has been making wine here since the 17th century. For over 30 years, KLWM has been proudly importing his wine, and now we work with his son, Bruno. Like his father, he believes in the family's legacy of innovation. He has re-equipped the cellars, replanted vines, and added new cuvées. It's no secret why we've been working with them since '78. Year in and year out, they are the best. The fairness of their pricing allows us to offer incredible values to our clientele.
About The Region
Languedoc-Roussillon
Ask wine drinkers around the world, and the word "Languedoc" is sure to elicit mixed reactions. On the one hand, the region is still strongly tied to its past as a producer of cheap, insipid bulk wine in the eyes of many consumers. On the other hand, it is the source of countless great values providing affordable everyday pleasure, with an increasing number of higher-end wines capable of rivaling the best from other parts of France.

While there's no denying the Languedoc's checkered history, the last two decades have seen a noticeable shift to fine wine, with an emphasis on terroir. Ambitious growers have sought out vineyard sites with poor, well draining soils in hilly zones, curbed back on irrigation and the use of synthetic fertilizers and pesticides, and looked to balance traditional production methods with technological advancements to craft wines with elegance, balance, and a clear sense of place. Today, the overall quality and variety of wines being made in the Languedoc is as high as ever.

Shaped like a crescent hugging the Mediterranean coast, the region boasts an enormous variety of soil types and microclimates depending on elevation, exposition, and relative distance from the coastline and the cooler foothills farther inland. While the warm Mediterranean climate is conducive to the production of reds, there are world-class whites and rosés to be found as well, along with stunning dessert wines revered by connoisseurs for centuries.
More from Languedoc-Roussillon or France
Vintage Chart Mentality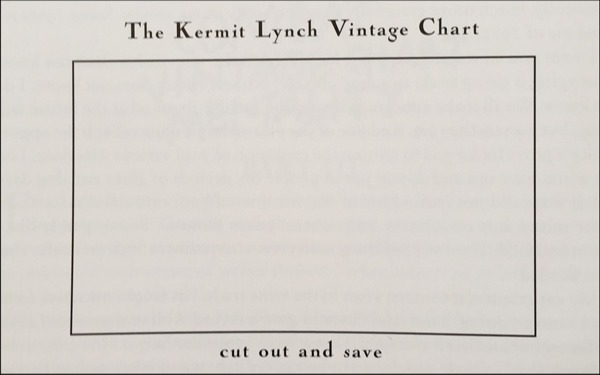 Vintage Chart Mentality
Trust the great winemakers, trust the great vineyards. Your wine merchant might even be trustworthy. In the long run, that vintage strip may be the least important guide to quality on your bottle of wine.—Kermit Lynch