This blend of Grenache Blanc, Ugni Blanc, Clairette, and Vermentino is planted in the lieu-dit of Aupilhac, the little corner of the Larzac behind Sylvain's winery on the lower limestone slopes of Mont Baudile. All of Sylvain's wines show a strong sense of place, as his organic viticulture and minimalist treatment in the cellar coax the essence of his land. It tastes as if bees had harvested the nectar and pollen of all the local flowers and herbs and brewed it into wine.
—Dixon Brooke
More from this Producer or Region
About The Producer
Domaine d'Aupilhac
Three generations of Fadats have farmed the lieu-dit known as Aupilhac, in the village of Montpeyroux, across the river Hérault from Daumas Gassac and Grange des Pères. While the Fadats have farmed this land since the 19th century, it wasn't until 1989 that the current member of the family, Sylvain, finally registered the domaine as a vigneron indépendant. Aupilhac sits at a high altitude, nestled below the ruins of the village's château, at almost 1200 feet above sea level on terraced land. The soils are rich in prehistoric oyster fossils, which lend incredible length and minerality to the wines. In Sylvain's words, "We believe that work in the vineyards has far more influence on a wine's quality than what we do in the cellar."
About The Region
Languedoc-Roussillon
Ask wine drinkers around the world, and the word "Languedoc" is sure to elicit mixed reactions. On the one hand, the region is still strongly tied to its past as a producer of cheap, insipid bulk wine in the eyes of many consumers. On the other hand, it is the source of countless great values providing affordable everyday pleasure, with an increasing number of higher-end wines capable of rivaling the best from other parts of France.

While there's no denying the Languedoc's checkered history, the last two decades have seen a noticeable shift to fine wine, with an emphasis on terroir. Ambitious growers have sought out vineyard sites with poor, well draining soils in hilly zones, curbed back on irrigation and the use of synthetic fertilizers and pesticides, and looked to balance traditional production methods with technological advancements to craft wines with elegance, balance, and a clear sense of place. Today, the overall quality and variety of wines being made in the Languedoc is as high as ever.

Shaped like a crescent hugging the Mediterranean coast, the region boasts an enormous variety of soil types and microclimates depending on elevation, exposition, and relative distance from the coastline and the cooler foothills farther inland. While the warm Mediterranean climate is conducive to the production of reds, there are world-class whites and rosés to be found as well, along with stunning dessert wines revered by connoisseurs for centuries.
More from Languedoc-Roussillon or France
Vintage Chart Mentality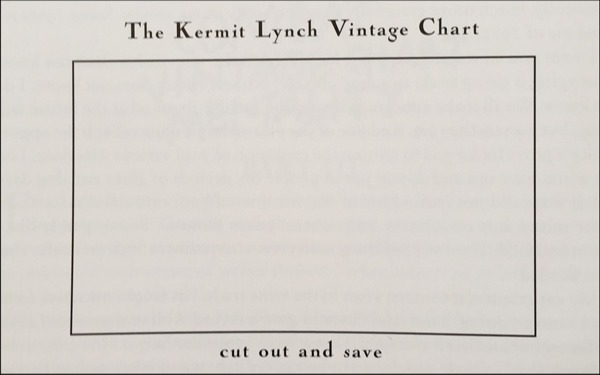 Vintage Chart Mentality
Trust the great winemakers, trust the great vineyards. Your wine merchant might even be trustworthy. In the long run, that vintage strip may be the least important guide to quality on your bottle of wine.—Kermit Lynch