Il fait soif roughly translates to something like "It's thirsty weather" or "It's thirsty out there." The term was coined in the 1950s by a French philosopher musing about how his countrymen viewed wine as a thirst-quenching beverage, of which one could always find a reasonable excuse to indulge.
Maxime-François Laurent has made quite the homage to that reasoning, a thirst-quenching breuvage of Grenache with a dollop of Syrah, vinified whole-cluster carbonic style, for maximum refreshment of all sorts. Maxime, whose mother, Michèle Aubéry, runs Domaine Gramenon, logically adopted the Gramenon philosophy for his own project. Having grown up around the domaine's organically and biodynamically maintained vineyards, giving the fruit destined for his own bottlings the same attentive care was an obvious choice.
Maxime's idyllic vineyards sit in the northern reaches of the southern Rhône Valley. There are gently rolling hills, beautifully forested where not planted in vines, and the views are sublime. This land produces fantastic Grenache, cooler and fresher than that of the flatlands, and the vinification style here fits the terroir like a glove.
Inspired by the wines of Marcel Lapierre, Maxime's "Il Fait Soif" is made for immediate, easy-drinking pleasure. Serve it now, serve it cool. This may be our most quaffable Southern Rhône red.
—Chris Santini
---
| | |
| --- | --- |
| Wine Type: | red |
| Vintage: | 2021 |
| Bottle Size: | 750mL |
| Blend: | 70% Grenache, 20% Syrah, 10% Cinsault |
| Appellation: | Côtes du Rhône |
| Country: | France |
| Region: | Southern Rhône |
| Producer: | Maxime François Laurent |
| Winemaker: | Michèle Aubèry-Laurent & Maxime François Laurent |
| Vineyard: | 15 - 30 years, 4 ha |
| Soil: | Clay, Limestone |
| Aging: | Wine ages for 6 months in stainless steel cuves |
| Farming: | Organic (practicing) |
| Alcohol: | 13.5% |
---
More from this Producer or Region
About The Producer
Maxime François Laurent
The seemingly reserved façade of Michèle Aubèry-Laurent melts quickly when she speaks about her wines. She and her husband, Philippe, bottled their first vintage in 1990, in the town of Montbrison-sur-Lez. In 1999, in an unexpected twist of fate, Philippe was killed in a tragic accident and Michèle was suddenly left with three children, vineyards, and the winery. Over the years, Michèle discovered her own creative voice in her new vocation. Today, she works twenty-six hectares with her son, Maxime François. They employ organic and biodynamic practices, with a non-interventionist stance in the cellars, bottling old-vine fruit with little sulfur, without fining or filtration, highlighting the purity of their small, rare production.
Kermit once said...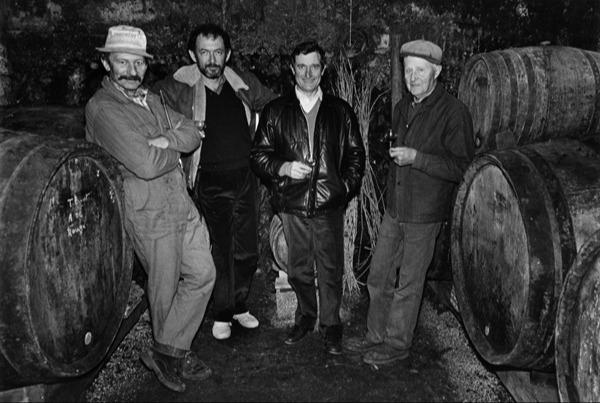 Kermit once said...
I want you to realize once and for all: Even the winemaker does not know what aging is going to do to a new vintage; Robert Parker does not know; I do not know. We all make educated (hopefully) guesses about what the future will bring, but guesses they are. And one of the pleasures of a wine cellar is the opportunity it provides for you to witness the evolution of your various selections. Living wines have ups and downs just as people do, periods of glory and dog days, too. If wine did not remind me of real life, I would not care about it so much.
Inspiring Thirst, page 171